How to change a tire in five steps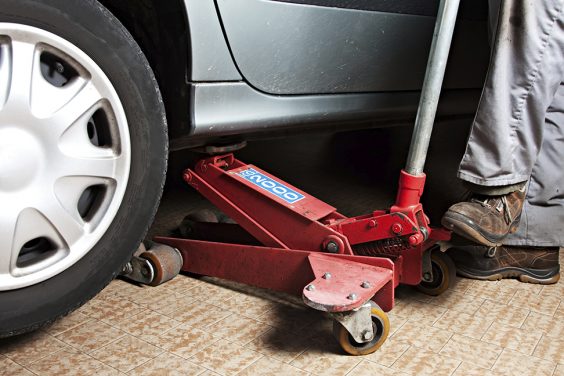 Flat tires are a common occurrence that most drivers will encounter at some point or another. Learning how to change a flat tire can help you be a smarter driver by knowing how to safely move your vehicle from harm's way. Be prepared for a flat by keeping a car jack, lug wrench and spare tire in your vehicle's trunk at all times. Use the step-by-step instructions below as a guide when you need to change a flat tire.
1. SAFELY PULL OVER AND TURN ON YOUR HAZARD LIGHTS
As soon as possible, pull over to the side of the road and try to avoid parking on a curve where oncoming traffic may have trouble noticing your vehicle. Alert other drivers of your emergency situation by turning on your hazard lights and keep them on while changing your tire.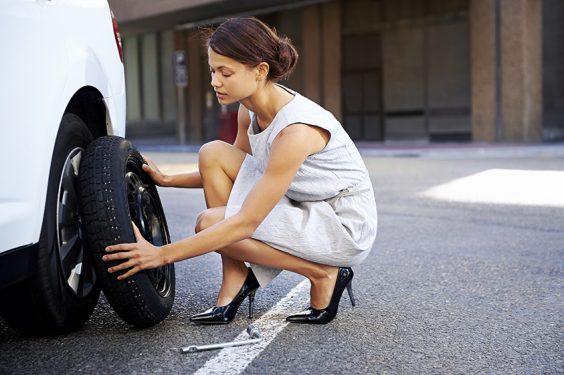 2. LOOSEN YOUR LUG NUTS AND RAISE YOUR VEHICLE WITH CAR JACK
If you have a hub cap, remove it. Then, loosen your lug nuts by turning your wrench in a counter-clockwise motion. Once loosened, check your owner's manual to view where to correctly place the jack on your vehicle. Once the jack is securely in place, jack up your vehicle until your flat tire is approximately six inches above the ground.
3. REMOVE LUG NUTS & FLAT TIRE AND REPLACE WITH SPARE
Take off the lug nuts and place them in a secure location where they will not get lost or roll away. Gently pull the flat tire straight forward to properly remove it from the wheel base. Align the spare tire to the lug nut posts and push it into the wheel base as far as it will go.
4. LOOSELY SECURE LUG NUTS AND LOWER VEHICLE BACK ON GROUND
At this point, loosely tighten the lug nuts onto the spare tire. Slowly release the jack to bring your vehicle back down to ground level. Carefully remove the jack from underneath your vehicle.
5. SECURELY TIGHTEN LUG NUTS AND PUT FLAT TIRE & TOOLS IN TRUNK
Tighten one lug nut about half way, and then tighten the one directly across from it on   the wheel (instead of the one next to it). Repeat this step until you have tightened all the lug nuts about half way. Repeat this entire cycle again, securing the lug nuts completely, until they are tight. Place your flat tire, jack, wrench and any other tools back into your trunk. Get back into your vehicle and do not turn off your hazard lights until you are safely off of the shoulder and back on the road.
If you do not have a spare tire in your vehicle or do not feel confident changing it on your own, have peace of mind that assistance is available when you need it. Just download Streetwise from the App Store or Google Play and have access to pay-per-use roadside assistance with the click of a button to help you stay safe and smart on the road.