Presenting "The World's Shiniest Car" Photo Upload Contest!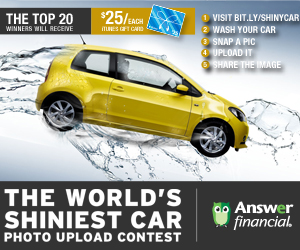 We are pleased to announce a fun photo upload contest through our Facebook page! "The World's Shiniest Car" asks you to upload your freshly washed car so you can be eligible to win one of 20 $25 iTunes Gift Cards! The contest runs from now until August 30, 2013 at 11:59 PM.
Click the image below to visit the contest page where the (simple) steps & official terms and conditions are posted. Good luck!!