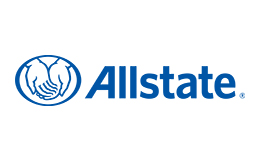 About Allstate
The Allstate Corporation (NYSE: ALL) protects people from life's uncertainties with more than 113 million proprietary policies. Allstate offers a broad array of protection products through multiple brands and diverse distribution channels, including auto, home, life and other insurance offered through its Allstate, Esurance, Encompass, SquareTrade and Answer Financial brands. Allstate is widely known from the slogan "You're in Good Hands with Allstate."
Allstate's best-in-class products and services help provide innovative protection and retirement solutions to millions of households nationwide. Its evolving business strategies and solutions continue to reinvent the industry standards, helping its customers better protect what they have today and prepare for a brighter tomorrow.
Since it was founded in 1931, Allstate has been a pioneer of the insurance industry. Americans have trusted Allstate to help protect their families and their belongings for over 80 years.
Based in Northbrook, Illinois, Allstate is the nation's largest publicly held personal lines insurer. Its leaders, employees and agency owners have been an integral part of Allstate's heritage.
Today, Allstate is reinventing protection to help consumers better prepare for tomorrow and protect what matters most.