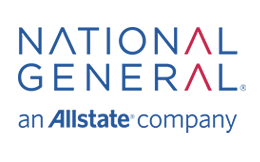 About National General Insurance
National General Insurance Group is one of the largest automobile insurers in the United States. With a nationwide network of claims professionals and a 24-hour, toll-free claims hotline available 365 days a year, National General Insurance provides superior claims service for its customers.
If you should suffer a loss, no insurance company can promise to make everything exactly as it was. What National General Insurance Group can promise is to listen carefully, respond immediately, and get you back on the road with as little disruption to your life as possible.
National General Insurance Group provides superior benefits that are often not available through other car insurance companies, including:
Legacy Discounts - Millions of people have a connection to General Motors, such as GMAC auto financing, a GMAC mortgage, a GM Card, or a career with GM or one of its thousands of suppliers or dealerships. In many states, National General Insurance is able to offer discounts to people that have one of these connections.
Financial Strength Rating
A-(Excellent) Rated by A.M. Best and owned by Allstate Insurance Company.
*Restrictions apply.