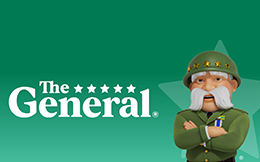 About The General Insurance
The General Automobile Insurance Services, Inc. (The General®) is a licensed insurance agency that is a subsidiary of PGC Holdings Corp. (PGC) which is an affiliate of American Family Insurance. Through its insurance company subsidiaries and their predecessors, PGC has been writing automobile insurance in many states throughout the country for over 50 years.
Quality Claims Handling
Our policy and claims service organizations are focused on serving the customer to complete the recipe for success.
Financially Stable
The General® (an agency) offers auto insurance online underwritten by the following insurance companies: Permanent General Assurance Corporation (NAIC #37648), Permanent General Assurance Corporation of Ohio (NAIC #22906), and The General Automobile Insurance Company, Inc. (NAIC #13703). These insurance companies have been recognized by A.M. Best for their financial stability with ratings of A- ("Excellent).
Low Down Payments
We realize that you have other things you want to spend your money on. Therefore, it is our goal to offer a low down payment option to every policyholder. We offer payment by credit card, and we accept electronic checks in some states.
Convenient Monthly Payments
We combine our budget-sensitive payments with electronic verification of driver information and vehicle information when you are buying the policy so there are no surprises to you down the road.