8 things you should do immediately after a car accident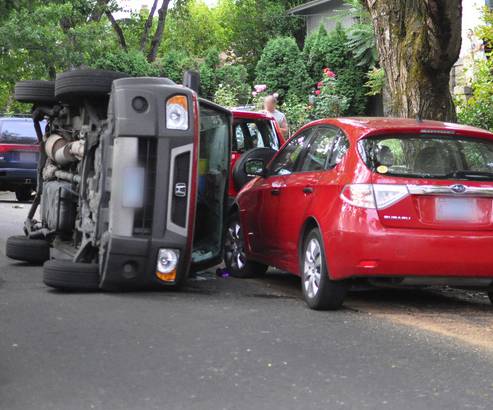 A car accident can happen at anytime, but do you know what you should do when you're involved in one? To answer this question we summarized and expanded below on the California Highway Patrol's (CHP) guidelines of "What to do in case of a vehicle collision" as well as advice from California's Department of Motor Vehicles (of course, we recommend you take these steps if you're outside of California too):
1. If anyone was hurt in the accident, the top priority is to take care of their injuries. If the injuries are serious enough call 911 immediately.
2. If no one is hurt and the vehicles involved are able to move, move them to the side of the road as quickly as possible (if it is safe to do so, you might want to snap a few pictures before and after you move the vehicles). Use flares and/or pop-up signs as necessary. Note that if your vehicle can be moved and you do not make an attempt to do so, the police may tow and impound your car.
3. At this point, if you have not called 911, call either the local or state police and report the accident (do not use 911 for this call, as 911 is for emergencies only).
4. Once you have reported the accident, you should then exchange information with the other driver(s), including information on the driver's license, vehicle registration, license plate number and state, and insurance information. It is a good practice to physically exchange documents with the other party so that you can be sure to copy down all of the correct information. If the other driver is unlicensed and/or uninsured, immediately call the police if they are not already on their way to the scene of the accident.
5. Again, if you haven't already, take pictures. Also, make sure to write down the conditions present at the time of the accident: weather, traffic, time of day, how other drivers were driving, whether there was something in the road or perhaps if a traffic light was out – basically write down whatever you can think of, as it might turn out to be crucial to the insurance investigation.
6. As the California Highway Patrol correctly suggests, "Do not accept or place any blame" for the accident, and leave that determination to your insurance company.
7. Remember the value of possible witnesses to the accident and politely ask them for their contact information so that both your insurance company, and if necessary the police, can interview them at a later date.
8. If for any reason you think that your vehicle might be unsafe to drive after the car accident, call a tow truck and have a professional mechanic fully check out your car.
Also, if you have hit an animal, you should pull to the side of the road and try to find the owner if you believe that the animal is a pet. If you cannot find the owner or it is a wild animal, call the police or humane society and do not attempt to move or treat the animal.
So the next time that you are in a car accident, make sure that you try to follow the eight steps we list above, and remember to drive defensively and to regularly compare auto insurance quotes to make sure you are properly insured at the best rate.