Halloween Safety Tips for Drivers and Homeowners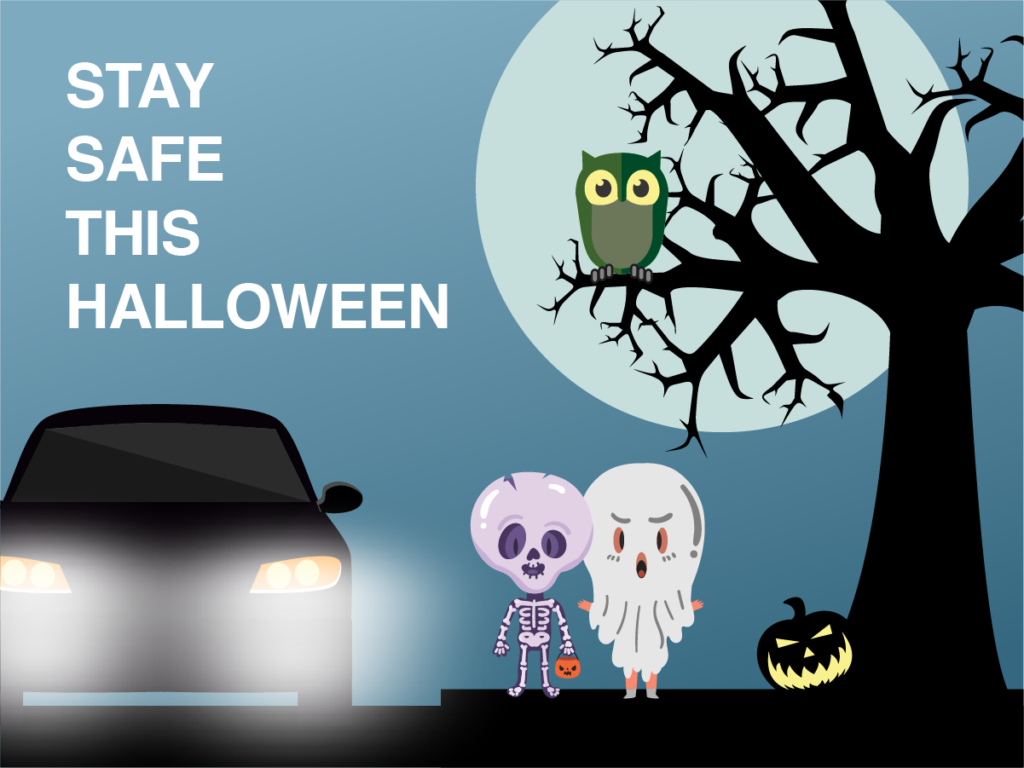 Almost everyone can appreciate the crisp fall air, howling winds and jack-o-lanterns on display during October. Halloween is curiously beloved, celebrating a darker side of life that's usually kept under wraps. While most of us have pure intentions for the season, others take advantage of the costumes and masks to rob, vandalize or cause other damages. Accidents of all kinds can be prevalent on Halloween night, so as your insurance experts, we've put together a list of Halloween safety tips to help you stay safe, while still having fun.
What should drivers be aware of on Halloween?
Here's a scary stat: According to the National Safety Council (NSC), children are more than twice as likely to be struck by a car on Halloween than any other day of the year.1 If you plan on driving, especially during the evening or night, these tips can help keep trick-or-treaters and yourself safe from an avoidable incident:
Practice distraction-free driving
Proceed with extra caution at intersections
Pay attention to nearby pedestrians, especially children
Make sure headlights, taillights and blinkers are properly functioning
Never consume alcohol before getting behind the wheel
If you plan on a seasonal event, make sure you have the right type of comprehensive insurance in place and keep your vehicle locked so it's less vulnerable to crime, like vandalism or theft:
Roll all car windows completely up
Conceal or remove valuable items
Always park in a well-lit area
Invest in a car alarm or stolen vehicle recovery system, which could also help you pay less on your insurance.2
How can rideshare drivers be safe on Halloween?
If you plan to work as a rideshare driver on Halloween night, there's a good chance you'll be busier than other nights of the year. As a rideshare driver, it's important to purchase the right kind of car insurance. If you're not sure what type of coverage you need, our licensed insurance experts can answer any questions you have and help you find the right policy for your needs. Since Halloween is notorious for an excess of roaming pedestrians, you have a responsibility as a rideshare driver to keep yourself and others safe:
Pay extra attention to your surroundings during pick-ups and drop-offs
Check rearview and side mirrors before departing
Ask your riders to verify their name before entering your vehicle
Encourage riders to sit in the backseat to help you stay focused while driving
If you feel sleepy, call it a night and end your shift
What can homeowners do to make their home safer for Halloween?
Most of us aren't used to masked strangers ringing our doorbells during the night, making Halloween a little uncomfortable for some homeowners, especially those who live alone or in crime-prone areas. The good news is, there are lots of ways to protect your home and deter vandals or thieves from making you a victim on Halloween night:
Purchase motion-sensor cameras for your property
Keep lights on in the house, even if you're not home
Make sure to lock your windows and doors
Be an extra set of eyes for your neighbor's homes and ask them to do the same
Install a home security system, an easy way to help lower your home insurance rates.3
How can I keep my trick-or-treater or teen safe on Halloween night?
For those out chaperoning adorable trick-or-treaters, or who have teens celebrating with friends, it's smart for everyone to be extra conscious of their surroundings, as drivers might be more distracted than normal on Halloween night. Visibility is a big key to staying safe as a pedestrian at night, especially on Halloween:
Wear shoes with reflectors on the back
Add reflective strips to clothing, especially on arms and legs
Encourage children and teens to wear glow stick necklaces and bracelets
Trick-or-treat at dusk, while there is still some lingering sunlight
Cross streets at intersections only, even while trick-or-treating in residential areas
Who is Answer Financial?
We're more than a team of licensed insurance experts – we're also one of the nation's largest and most reputable auto & home insurance agencies. Answer Financial has helped nearly 4 million customers find the right coverage for their homes and vehicles, from cars and motorcycles to boats and snowmobiles. We work with more than 30, top-rated carriers to save our customers an average of $504 a year on their insurance needs.*
By visiting our mobile-friendly website, shoppers can quickly compare rates and customize coverages from multiple insurance companies in minutes. Answer Financial can help you compare, buy and often save the smart way on insurance.