Stay safe with these hot grilling tips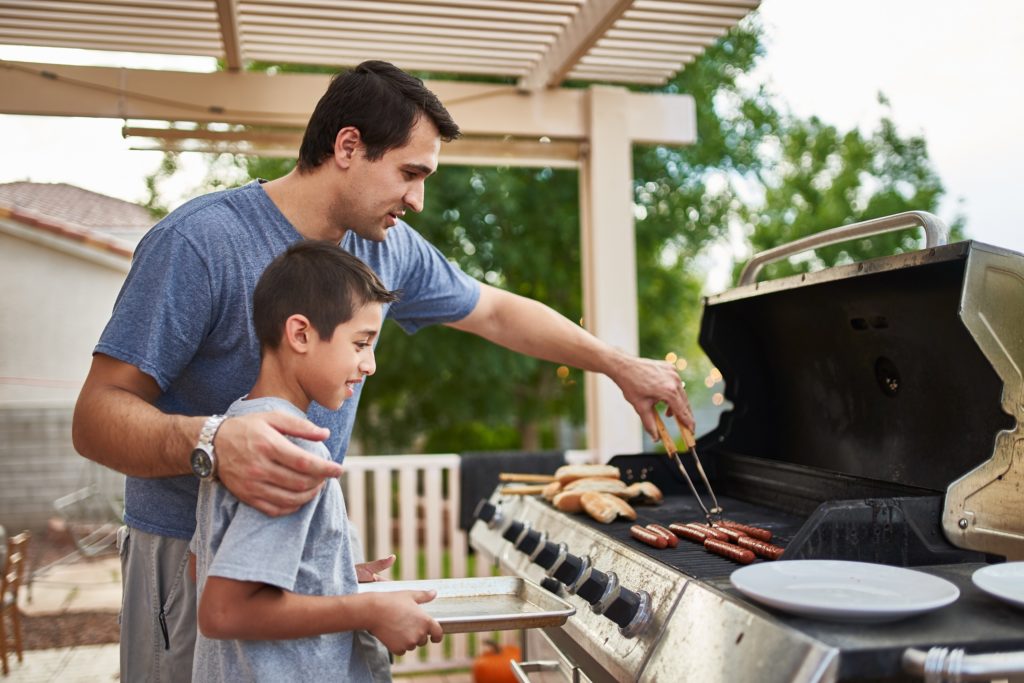 As we head into June, many of us are still focused on preventing the spread of COVID-19 by keeping our social distance from others. Usually during this time of year, the weather is getting warmer and it's a great time to fire up the grill – safely! Luckily, cooking food on a grill can still be done while we practice social distancing. Before you tie on your apron, check out these smart and quick grilling safety tips.
Grill outside only
Never use a grill in a garage, vehicle, tent or other enclosed space – even if the area is ventilated. Also, be sure that the grill itself is stabilized on leveled ground.
Wear proper clothing
Roll up your sleeves, tuck in your shirt and pull your hair back if necessary. Make sure your apron strings are tied, secured and away from any flames.
Keep a fire extinguisher within close reach
Anytime you grill, it's important to keep a fire extinguisher nearby that you know how to use. If a fire occurs, an extinguisher may be your first line of defense. Even small fires can spread quickly, so your biggest concern is keeping yourself and others safe, followed by calling for help.
Keep a watchful eye
Never leave a grill unattended. Make sure pets and children steer clear of the grill and keep all matches and lighters away from children.
Have a gas grill?
Check for propane leaks every time before you cook. If a flame goes out when you are grilling, wait at least five minutes to re-light. Never turn on the gas when your grill lid is closed. Also, do not store propane containers indoors or underneath your grill.1
How about a charcoal grill?
Always use proper charcoal starter fluid instead of gasoline or kerosene. Keep your starter fluid capped and away from your grill. Don't add any starter fluid to hot coals and always wait at least 48 hours before disposing of charcoal and ashes.
Remember post-grilling safety
Keep your grill clean by removing grease or fat buildup from the slats and in collection trays below. If you grill with charcoal and need to dispose of the coals, soak them in water to extinguish any lingering heat before disposing in a metal container. Otherwise, cover the grill tightly and close the vents, which should extinguish the coals. You can use whatever is left over for the next time.
Prepare for the unexpected
Be prepared for any potential "what if" situations by protecting your loved ones and property with home, renters or condo insurance. A little bit of grilling safety knowledge can go a long way. To find carriers offering great plans and rates, click here to compare insurance quotes the smart way with Answer Financial.