Who is liable for damage done by a valet?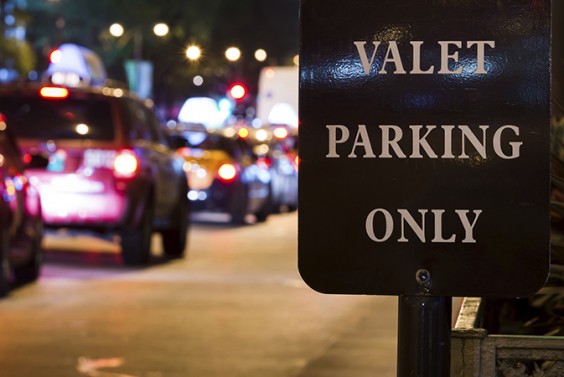 We've all been there before – you step out of your favorite restaurant, retrieve your car from the valet and out of the corner of your eye you spot a ding in the door that wasn't there an hour ago. It can be an awkward situation, one in which you don't know if you can hold the valet company responsible or if the damage would be covered by your insurance company. Does the fine print on the valet claim ticket absolve them of all responsibility? Read on to learn the ins and outs of what to do in this situation.
When you hand your car keys to a valet parking attendant, you trust they will not damage your car or steal anything out of it. You hope to get it back in the same shape as you left it. Unfortunately that's not always what happens. Some hotels and restaurants have their own valet drivers while others hire a valet company. Frequently the valet company is the entity that is required to carry its own insurance and insure its employees against damage to the vehicles they handle.
What should I do if I see damage on my car?
When you pick up your car from the valet, take a quick look around to see if there's any damage or if anything is missing from inside your car. If there is damage that you suspect was caused by the valet, immediately take photos of it. You will also need to collect the following information: the name of the valet driver, the contact info of the valet company, and the info on their insurance company. If the valet worker won't give you the info, ask the business you visited if they have it.
If the damage is moderate or severe, you'll want to file a report with the police. This is not always possible because, in some areas, the police will not make a report for accidents that take place in a parking lot. However, having a police report will be helpful in filing your claim since it lends credibility to your story of what happened.
Within 24 hours of the incident, you'll want to turn this info over to your insurance company and explain the incident to them. Your insurance company will then determine who is responsible for covering the cost of repairing your car.
Who is at fault?
It varies from state to state, but in many cases the person driving the vehicle at the time the damage occurred will be the one held liable. If that person is a valet, the responsibility will normally fall to the valet company. Getting the valet company to own up to their role in the damage can be difficult. Valet companies can understandably be defensive about accusations of fault, due to the chance of fraudulent claims. The valet may tell you that the "release of liability" language on your claim-ticket absolves them of any responsibility; however, that is up to the insurance company to decide.
Most valet companies carry insurance that will cover damage to a vehicle in their custody. Liability coverage will cover injury to people or damage to property the valet doesn't own.
When you file a claim about damage to your car, the valet company takes it up with their insurance company. The valet company should follow the same process whether or not they believe they are at fault. It is up to the insurance company to determine who is responsible for paying to repair any damage.
What if the damage was caused by another patron?
If another patron caused the damage to your vehicle while it was in possession of the valet, the valet company may not be liable. If they hit your car and left the scene, and you can't identify the car/driver through surveillance footage or eyewitness accounts, you can submit your claim to your own insurer under your collision coverage. However, you would have to pay your deductible,  it may not make sense to file a claim depending on the amount of damage. In addition, you may ultimately end up paying higher insurance premiums if you file a claim.
Sometimes you will personally be on the hook for paying for repairs. But if you have
comprehensive coverage for your vehicle, your policy may pay to repair the damage. In the end, there is one easy way to avoid all of this hassle: Don't valet your car. The best preventative measure is finding the right coverage for your needs from Answer Financial. With 25 years experience making insurance easy, our experts can help you compare quotes from over 40+ top-rated insurance companies. Give us a call at 1-800-258-5101 to find the auto insurance policy that best fits your driving needs, or get a quote online now.
Found a 2023 reference, updated.