10 Easy Construction Projects to Celebrate Dad this Father's Day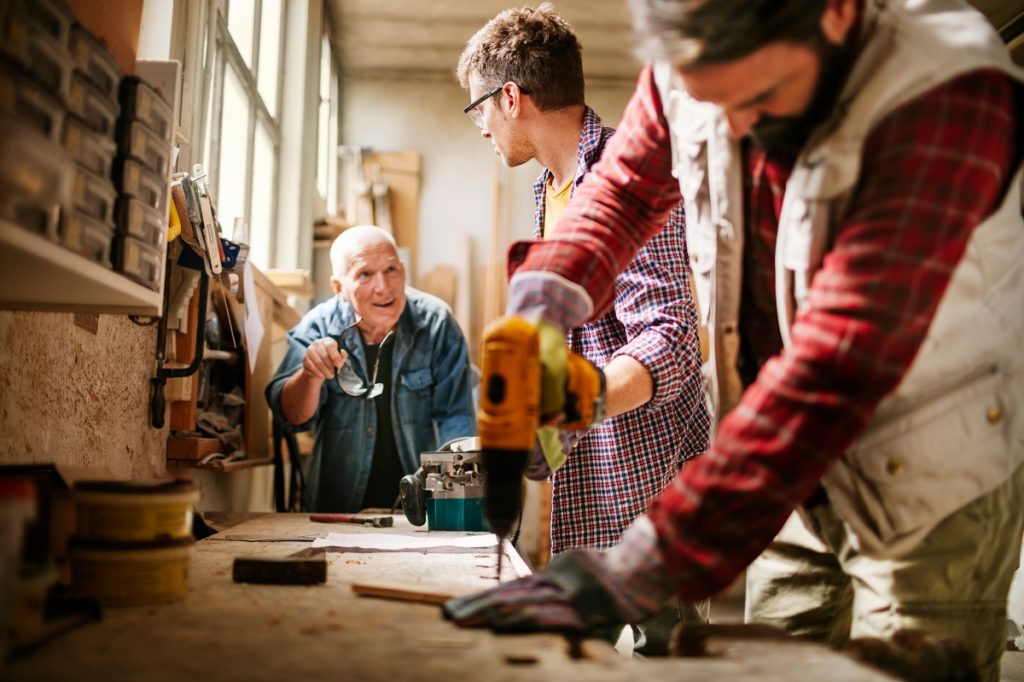 Some of the greatest gifts you could surprise your dad with this Father's Day are easy construction projects you can work on together and create memories with. Certain home improvements may lead to an increased home value and aesthetic but be smart and research each project carefully to make sure it doesn't interfere with your dad's home insurance. One day, he may need to file a claim.
Some of these Father's Day construction projects require a good amount of time and hard work, but what's a better way to bond with dad than spending time together? The good news is, he'll likely save a bundle by doing these projects independently instead of hiring a contractor.
Easy Construction Project 1: Corner Shelves for a Bathroom or Bedroom
Corner shelving can be a quick and simple way to add character to any room and likely won't impact your dad's home insurance. If your dad is short on counter space, corner shelving is a great way to help solve his problem. If it's a nightstand he lacks, corner shelving can provide a designated space to keep items like his phone, water and glasses overnight. While this addition may not lead to an increased home value, it could provide a more comfortable living space.
Easy Construction Project 2: Window Planter Boxes
Adding a wooden planter box under a windowsill is a simple way to dress up the outside of dad's home If your dad prefers a sleeker style, construct these home improvements with vinyl material instead. Planter boxes are easy construction projects that won't necessarily lead to an increased home value but can be fun and simple to install.
Easy Construction Project 3: Shovel and Yard Tool Rack
If your dad has a garage, basement or shed, this construction project can help him properly store his long-handle tools. When tools like rakes and shovels are loose on the floor, someone could trip over one, potentially leading to an avoidable home insurance claim. With materials like plywood, a circular saw and a drill, you and your dad can likely build one together in hours. He'll enjoy the extra space storing from storing these tools vertically.
Easy Construction Project 4: Porch Swing
While this likely won't lead to an increased home value, it may improve curb appeal. If your dad has a large porch, adding a swing is one of those home improvements the whole family can enjoy for years to come. Since many swings come in preassembled kits, it likely won't be too laborious for you and dad to install.
Easy Construction Project 5: Garage Storage Shelves
Are the sides of dad's garage cluttered with paint cans, old kitchen appliances and sports equipment? Help him out this Father's Day by adding storage shelves to help maximize space and maintain order. You and dad can probably build these together in a night or two using fairly inexpensive materials.
Easy Construction Project 6: Deck or Patio Stairs
If your dad's deck or patio looks dingy or outdated, freshen it up with a new set of stairs. Stain them any shade or paint them white to brighten up the front of his house. Your dad can think of you every time he walks up them after a long day.
Easy Construction Project 7: Pergolas and Gazebos
Does your dad live on a large piece of property? You may be surprised how many gazebos and pergolas you can assemble yourself in a surprisingly short amount of time. These types of home improvements can add a custom look and provide a space for dad to entertain guests when it's warm outside.
Easy Construction Project 8: Indoor Bench with Underneath Storage
What's one of the most common complaints about homeownership? Storage! If your dad has packed his cupboards and linen closets over the years, it may be time to get creative and help him find other places to store his household wares. Building an indoor bench with storage underneath is not for beginners but is something that could catch the eye of prospective buyers if your dad has plans to one day move.
Easy Construction Project 9: Boat Dock
Father's Day construction projects like these are for true adventurers. If your dad lives on a lake and doesn't have a boating dock, this project can be an especially meaningful. Constructing one could a couple of months to complete, depending on your skill level. If you think you and your dad are handy enough to take this project on, he'll likely enjoy the results for years to come.
Easy Construction Project 10: Fire Sprinklers that Add Value and Help with Insurance Savings
Unlike modern office buildings or stores, many homes are not equipped with fire sprinklers. In some states, installing them could help dad save on his home insurance.1 Before you install a fire sprinkler system, contact your insurance experts with Answer Financial to see if it could help your dad save on home insurance. Get a free quote today or call us at (800) 258-5101 to find out.