13 Affordable and Inspiring DIY Home Improvement Ideas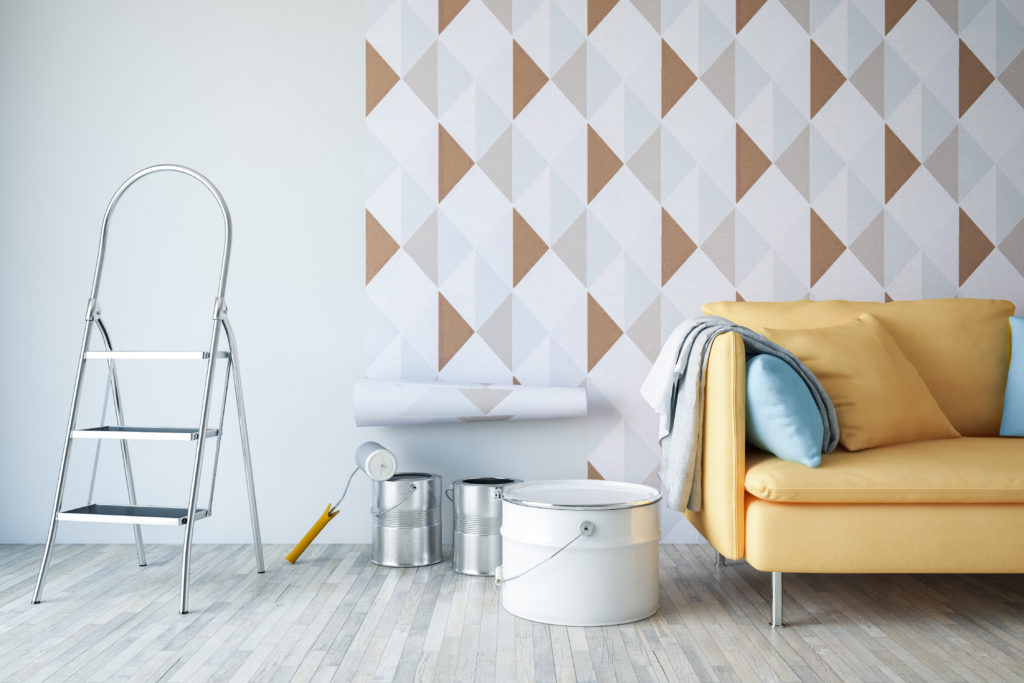 There are all sorts of big home improvement projects you can dream about. But many require the help of an expert, plenty of money and days or weeks of chaos in your home. Plus, if you were to complete a larger project, it could increase the value of your home, and in turn may increase the cost of your home insurance. Here are some simple DIY home improvement ideas that may increase the value of your home. Most of these you can complete in a few hours with simple tools. Best of all, you won't need to take out a big loan to make them happen.
DIY Home Improvement Idea 1: New Kitchen Hardware
Upgrading the hardware on your cabinets can make a night and day difference in how your kitchen feels. A simple white kitchen can feel glamorous with the addition of brushed gold knobs and pulls. Or maybe you want to modernize an older kitchen with brushed aluminum. Best of all, you only need a screwdriver to make it happen.
DIY Home Improvement Idea 2: Cool House Numbers
Putting new house numbers on your front door (or right next to it) is an easy and inexpensive way to give your home a new attitude. You can go for a fresh mid-century modern look or something more traditional.
DIY Home Improvement Idea 3: Paint the Front Door
It's commonly said that the front door makes an immediate impression about the value of your home. If the paint on yours is getting old or could benefit from a color change, go ahead and paint it your favorite bright hue. If you're stuck on which color to choose, taking a look these 59 options could make the decision easier.¹
DIY Home Improvement Idea 4: Mailbox Makeover
If your mailbox is a bit of an eyesore, you can boost curb appeal immediately with a mailbox makeover.² The cost can be affordable if you do the work yourself.
DIY Home Improvement Idea 5: Peel and Stick Floor Tile
You don't need special tools or grouting skills to install a new floor in a kitchen or laundry room. Peel and stick vinyl floor tiles only need to be trimmed with a utility knife. Then simply peel off the backing and stick to your floor or any flat surface. These cost-effective tiles are made to withstand wear and tear while still looking fresh and chic.
DIY Home Improvement Idea 6: DIY Sliding Barn Door
Almost any door can be a unique statement when you remove the hinges and install it on a sliding barn door track. Learn how to hang it yourself with this helpful tuturial.³
DIY Home Improvement Idea 7: Custom Pet Portrait
A custom portrait of your favorite furry friend brings whimsy to any home. There are hundreds of talented artists⁴ specializing in this and the cost is typically affordable. Usually all you need to do is supply a photo and your artwork will arrive in a few weeks.
DIY Home Improvement Idea 8: New Outdoor Lighting
You can improve both the looks and safety of your home with new lighting fixtures. Installation should only take 20 minutes if the wiring is already in place. Costs vary, but can be under $50 for a set of two.
DIY Home Improvement Idea 9: Install Track Lighting
A basic track lighting kit is about $150 and directs light exactly where you want it. Many systems now operate on standard household voltage, so you won't need to install a transformer. Just connect to an existing junction box in the ceiling if you are a skilled enough electrician to do so.
DIY Home Improvement Idea 10: Improve Your Walkway
Adding a simple border of bricks or pavers to the walkway leading up to your front door will make home a more pleasant place to come home to. You can dry set them (no mortar) on a firmly tamped base. Or for more lasting results, dig a small trench.
DIY Home Improvement Idea 11: Peel and Stick Wallpaper
Want to take on a new wallpaper project, but want to minimize the risk of getting it wrong? Easily removable wallpaper is a great solution. The huge variety of available patterns means there's a style that's perfect for any room.
DIY Home Improvement Idea 12: Bathroom Mini Makeover
A new granite vanity top when paired with a new faucet and mirror can end up feeling like a big transformation. It might take you a weekend, but it's something you'll enjoy every day for years to come.
DIY Home Improvement Idea 13: A Security System… and Saving on Insurance?
The latest home security systems can often be self-installed and can really improve peace-of-mind. Plus, this is one of the few improvement projects that might actually lower your home insurance premium. Before you purchase a system, contact Answer Financial to see if this could help you save on home insurance. Get a free quote today or call one of our insurance experts at (800) 258-5101.
Who is Answer Financial?
As one of the nation's largest and most reputable auto & home insurance agencies, Answer Financial has insured nearly 5 million homes and vehicles. We work with 40+ top-rated carriers to save our customers an average of $557 a year on insurance.*
On our mobile-friendly website, shoppers can quickly compare rates and customize coverages from multiple home insurers. By simply entering your zip code and home address, Answer can search publicly available records like square footage and year built to deliver side-by-side comparison quotes from reputable insurance companies.
Answer Financial can help you compare, buy and often save the smart way on insurance. So before you shop, remember to rely on your insurance experts to find you the right home insurance plan for your needs and budget.
Sources:
HGTV, "59 Inviting Colors to Paint a Front Door," https://www.hgtv.com/outdoors/outdoor-spaces/42-inviting-colors-to-paint-a-front-door-pictures
One Crazy House,"15 Mailbox Makeover for Instant Home Appeal," https://www.onecrazyhouse.com/mailbox-makeovers/
National Hardware, "How to Create a Barn Door Using the Existing Door," https://www.national-hardware.com/creators-corner/how-to-create-a-barn-door-using-the-existing-door
Etsy, "Custom Pet Portrait," https://www.etsy.com/market/custom_pet_portrait
*Results of a national survey of new Answer Financial customers reporting insurance savings 2022.