Answer Financial Introduces Rate Tracker Price Alerts For Car Insurance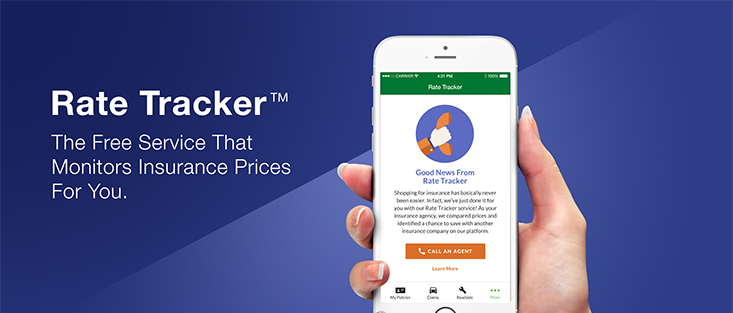 Rate Tracker is an exclusive benefit for Answer policyholders that puts insurance shopping on autopilot and notifies customers of potential savings
We are excited to announce today the introduction of our exclusive Rate Tracker™ service, a patent-pending technology you get as a benefit of being an Answer customer. Rate Tracker† monitors insurance prices on behalf of customers and sends periodic alerts to let you know if you still have a competitive rate or could save money with another insurance company on our comparison platform. We represent more than 20 insurance partners – including Progressive, MetLife, and Safeco – providing quote comparisons and sales services, both online and over the phone with a US-based insurance expert.
"Insurance is one of the largest expenses for most households," said Darren Howard, Chief Marketing Officer for Answer Financial. "Our customers are busy with life, work, family – so they may not have time to regularly shop around for insurance. Now with Rate Tracker, Answer makes their lives easier by tracking prices for them."
Rate Tracker is a game changer in the way people shop for auto insurance, by automating a complex and time-consuming process. Rate Tracker builds upon Answer's proprietary comparison technology and established relationships with insurers, working in the background to check prices before a customer's current auto insurance policy renews. If an opportunity for potential savings is found, we alert you with an email and a push notification through Answer's policyholder app, Answer Mobile™. If Rate Tracker finds the current policy is still the most competitive, we'll let you know you still have a great rate so you can save time and have peace of mind that you are not overpaying for car insurance.
"Rate Tracker has been a homerun with our customers. It's blowing away our expectations with about 90% of people signing up for the service when they buy a policy," said Howard.
Shoppers can buy directly online from Answer's mobile-friendly website or over the phone with a US-based insurance expert. With our Answer Mobile app, you also have access to digital insurance ID cards and policy information, as well as roadside assistance and easy claims reporting. As your agent, Answer provides 24/7 customer care.
To compare quotes on insurance, visit www.AnswerFinancial.com, or speak with a licensed agent at 1-866-635-7777.
†The Rate Tracker price check uses estimated rates based on information provided by the customer at the time of policy purchase, including information about the customer, additional drivers in the household, and covered vehicles. Since Answer may not have all the customer's latest information at the time of the automatic price check, accuracy cannot be guaranteed.