Big dreams of tiny living: 3 tips for tiny homes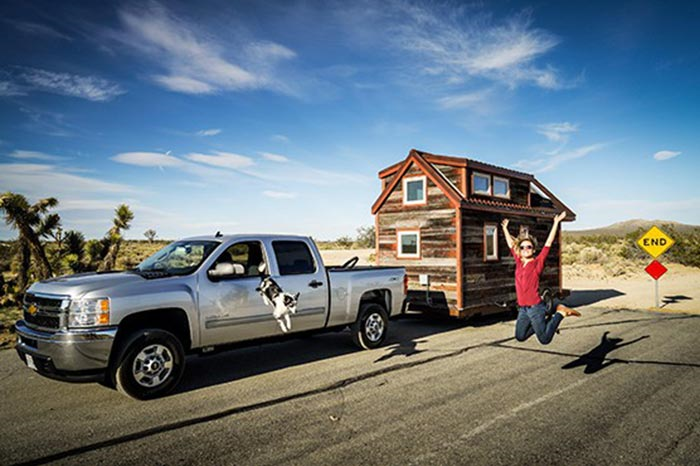 American millennials have adapted to a minimalist lifestyle – and it makes sense why. They grew up during the recession, graduated college just in time to face a daunting job market, and are now working for less money than their parents did. Throw in their sizable debt accumulated from student loans and credit cards, and the dream of becoming homeowners starts to seem much less attainable, even if they do follow these tips for tiny homes.
Minimalist millennials have made the "less is more" viewpoint relevant again by placing a greater value on efficiency, simplicity and sustainability rather than material gain. They've modified their home-buying dreams to meet their budget, instead of giving up on them all together. Since owning a tiny home could cost the same as a down payment for some traditional homes, the movement has quickly grown in popularity by a generation with limited bank accounts.
For some, that means towing their home wherever their dreams take them — and for others — it means living completely off the grid. Whatever the reason, almost all tiny home pioneers are eager to be free from the overhead that plagues so many homeowners, like mortgages and costly up keep.
Before shelling out your entire nest egg, it's wise to make sure your investment will be properly protected. The Tiny Home Movement is still in its infancy and insurers aren't quite yet caught up with the craze. Here are some important tips for tiny homes:
1) Choose the style of your tiny home first
One of the best perks about owning a tiny home is the flexibility to get up and go whenever you please. If you're like many tiny home adventurers who plan on staying mobile, owning a tiny home that can be classified as an RV could make the insurance purchasing process a whole lot smoother. If you plan to stay put on a plot of land, or are moving into a newly-trending tiny home community, getting your house certified by the National Organization for Alternative Housing (NOAH) may help you more easily get a policy from some insurers. When considering which of these lifestyles speaks to you, considering insurance is important because the types of risk a tiny home on wheels face may be very different than those of a house that is more permanently placed.
"Absolutely tiny homes are insurable. It just depends on who built it, like a professional builder or yourself as a DIY project," said Mike Schmidt, Business Development Director for the Tiny Home Industry Association. "It also depends on how it's built, whether or not it's on a trailer or placed on a fixed foundation, and what you want to protect such as structure, belongings and theft."
2) Make sure your mobile tiny home is Rvia certified
If you're hiring a builder to construct your tiny dream home, going with someone who is a certified RV manufacturer could help you avoid a multitude of future headaches. Builders who are RVIA certified can provide you with a RV VIN number which it will make it easier to get your tiny home both registered and insured.
"It's important to let your insurance agent know all of the details about your tiny home, like how it was constructed, how much it weighs and how you plan to use it," said Shawn Powers, Vice President of Sales Center Operations for Answer Financial, a national auto and home insurance agency that compares prices online and over the phone for insurance shoppers. If you plan to live in it full time or tow it to different locations several times a year, your agent needs to be aware so the appropriate coverage can be written for your tiny home."
3) Don't expect your tiny home to appreciate like a traditional dwelling
Any home, large or small, that is affixed to a foundation will typically have a better resell value than a home on wheels. Land is often times valued even more than the dwelling that sits on it. If your tiny home is mobile, don't expect to get much more than you paid for it when the time to sell does arrive. Many tiny home owners are concerned about sustainability, so their homes are customized to conform to their lifestyle. A Custom tiny house may be harder to re-sell if its design does not fit a buyer's needs, even if you do follow our tips for tiny homes.
It's ok to take plenty of time weighing the pros and cons of of these tips for tiny homes before making a decision. While many people believe they could easily adapt to an extremely minimalistic lifestyle, actually living in quarters of less than 400 square feet may reveal how difficult – or freeing – tiny living can be.
If you're still in love with the idea of living tiny, but aren't sure if the home you have in mind will be easy enough to insure, you can get some guidance from a licensed insurance expert at Answer Financial by calling 800-761-6111.