Do Food Delivery Drivers Need Special Auto Insurance?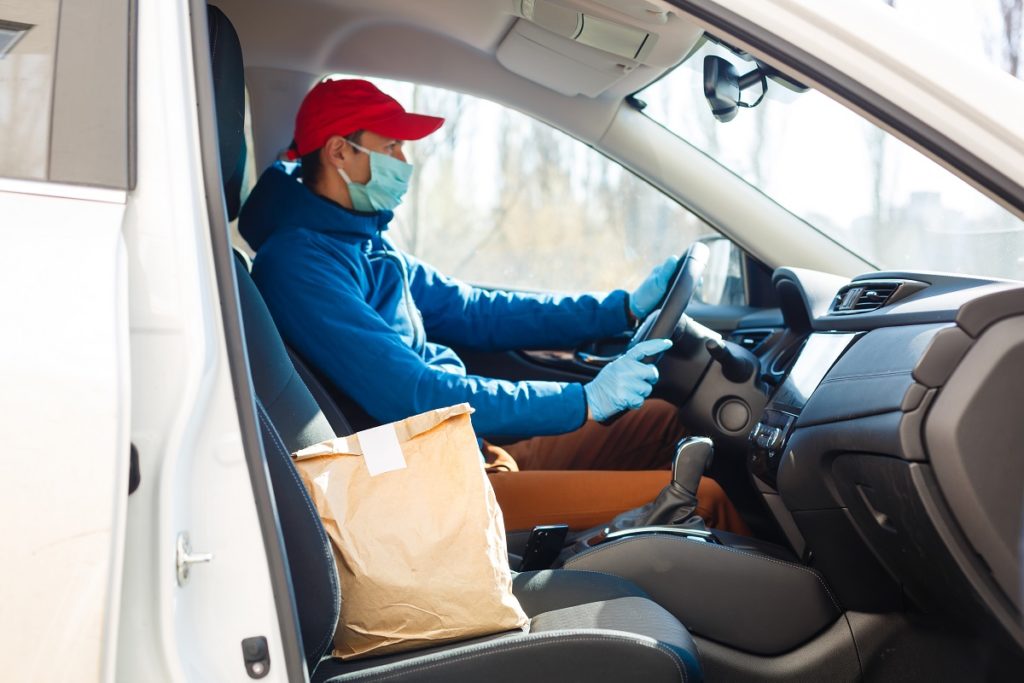 Shelter-in-place orders have been in place for a few months, and Americans everywhere are relying on grocery and food delivery drivers while hunkering down at home. Many have started driving for food delivery services like Uber Eats, Grubhub, DoorDash and Instacart for supplemental income. And now, restaurant workers who are lucky enough to still be employed are being asked to make deliveries in their personal vehicles. Anything to help their restaurants stay afloat, right?
Pre-pandemic life was different, no matter how you look at it. These days people are worried about shopping for groceries or getting takeout from restaurants, increasing the demand for food delivery drivers to unprecedented heights. If you're a driver, don't assume you're protected by your auto insurance company while making food deliveries. There are some caveats that come into play, and as your insurance experts, we've done some digging to help answer the tough questions you may have.
Food delivery service vs. restaurants: Is there a difference?
Pre-pandemic, restaurants were required to purchase liability insurance for drivers operating their own vehicles for food delivery. The reason being is simple – insurance companies are all too aware that people driving commercially spend a lot of time in their cars. With that added time, comes greater risk. Imagine driving in an unfamiliar area multiple times a day, looking down at the GPS on your phone to find an unknown address. When your full attention is not on the road, it could increase your chances of getting into a fender bender or hitting a pedestrian.
Since the Covid-19 outbreak, insurance regulators in many states are taking the high demand for food delivery into consideration – at least for restaurants. In many states, temporary measures have been put in place to protect restaurant employees making deliveries who aren't covered by a commercial policy from their employer.1 For example, if you're a server who is now using your personal car for work, your insurer may not be able to deny your claim if an incident occurred while you were delivering food, depending on which state you work in. Since this doesn't apply everywhere, it may be wise to read up on your state's measures before starting your delivery route.
Are food delivery drivers protected by personal auto insurance?
Unlike brick and mortar restaurants, most food and grocery delivery companies like Instacart do not pay for their non-employee drivers' car insurance. However, some insurance companies are extending coverage for drivers delivering food, groceries and medicine during the pandemic.2 We recommend checking with your insurance company to see if you're covered, and if not, you may want to consider purchasing a commercial or small business insurance policy to make sure you're protected while making deliveries. Often, it's not very expensive to obtain this type of coverage.
When will extended insurance coverage for food delivery drivers end?
Since most of us don't have a crystal ball handy to help predict the future, there's no way of telling when these orders will change or end. While these modified regulations are offering peace of mind for food delivery drivers in many states, it likely won't last forever. In fact, it's possible these types of extended insurance coverages will end as soon as restaurants are no longer subject to dining-in restrictions due to federal and/or state orders.3
To be safe, we recommend checking with your employer and your insurance company to make sure you're protected while working as a grocery or food delivery driver. If you think you might need more coverage, or are looking to switch insurance companies, compare plans the smart way online or over the phone with your insurance experts at Answer Financial.
---