Do I need insurance for my ATV?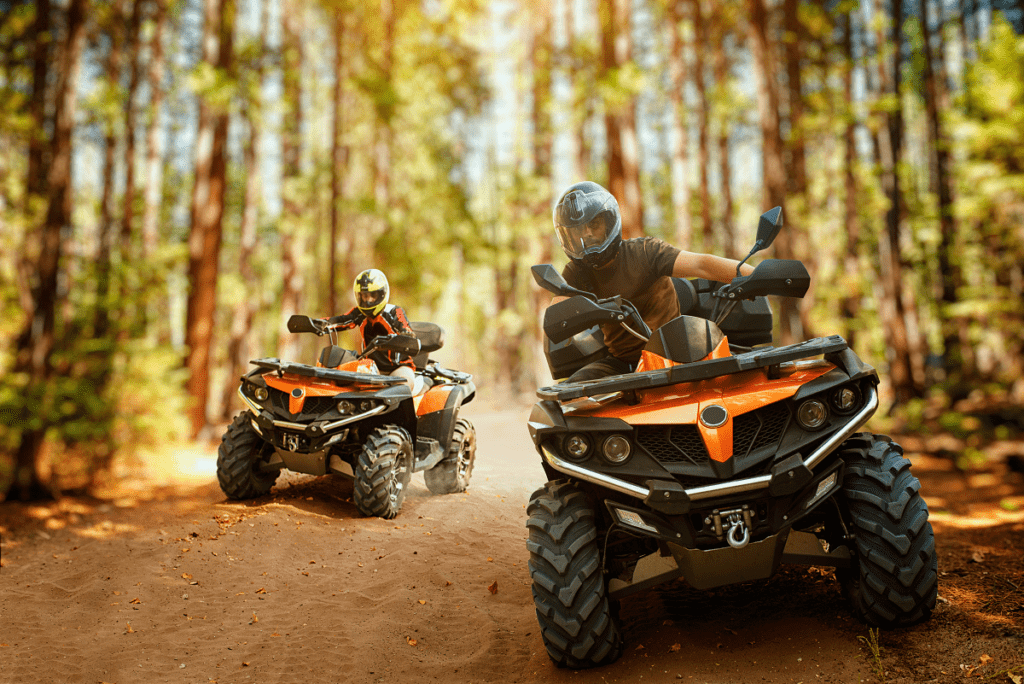 No matter which state you live in, you probably know someone who loves riding ATVs, or All-Terrain Vehicles. Just like their name, ATV usage is versatile, from off-road riding in the California deserts to hunting game in the dense forests of east Tennessee. With riding comes costly risks. As your insurance experts, we recommend purchasing an insurance policy for your ATV, to keep yourself and your property protected from life's uncertainties.
Is my ATV covered by my auto or home insurance?
Sometimes, people assume their auto insurance will cover them while riding an ATV, especially if they don't ride often. However, this is usually not the case, and you will likely need to purchase a separate insurance policy to protect yourself and your ATV in case any type of incident occurs.
This often holds true for home insurance as well. If you have a higher-limit home insurance policy and your ATV happens to be covered, it's possible the coverage provided may be limited. If you are unsure what your home policy protects you from, call to speak with one of our licensed insurance experts to help you learn more.
Am I legally required to have ATV Insurance?
There are certain circumstances where you will probably be required to have ATV insurance, regardless of the state you live in. Like your car, if you are leasing or financing your ATV, your lender will probably require you to have an insurance policy in place. Also, if you plan to ride in a state park, or enter a competitive sporting event, riders may be required to show proof of insurance before they can participate.1
Unlike your car, you can ride an ATV in some areas without insurance, depending on where you ride or live. Since ATVs are usually not street legal, you may have to meet certain safety requirements, like wearing a helmet while riding, but insurance may not be one of them. However, this doesn't mean it's wise or even financially sound to ride your ATV without insurance. Check your local and state laws so you know what's required where you live and ride.
Is ATV insurance expensive?
ATVs can be expensive to purchase and maintain, especially newer models. It's wise to consider protecting your investment with an insurance policy, even if it may not legally be required for the type of riding you plan on doing.
From 2017 through 2021, the United States experience an average of 103,500 ATV-related emergency department-treated injuries.2 While riding can be a blast, a single accident could cause extensive damage, both to you as a rider and to your ATV, resulting in medical bills and property damage. In general, basic policies can easily outweigh the expense of even one incident.
What's included in an ATV insurance policy?
Different types of damage-causing incidences can occur when you're an ATV rider, from collisions with other riders or objects to weather-related events like a hailstorm. The good news is, purchasing a separate ATV insurance policy can protect you from different types of occurrences:
Accidents happen. If you cause one that results in someone else getting injured or their property getting damaged, liability coverage can help pay for the other person's medical bills and/or property repair.
Collisions with objects like fences and trees, happen more often than you might think. If your ATV is damaged after hitting an object or another vehicle, collision coverage may help you cover the repair costs of your ATV.
Events caused by weather or unforeseen events, like a fire for example, can cause unexpected damages to your ATV. When damage is caused by events other than collisions, comprehensive coverage may help you pay to fix the damages.
Who is Answer Financial?
If you have more questions about ATV insurance, you've come to the right place! As one of the nation's largest auto & home insurance agencies, we've helped nearly 5 million customers find the right coverage for their homes and vehicles, including ATVs, motorcycles, boats and snowmobiles. We work with more than 40+ top-rated carriers to save our customers an average of $557 a year on their insurance needs.*
Visit our mobile-friendly website to quickly compare rates and customize coverages from multiple insurance companies. Answer Financial can help you compare, buy and often save the smart way on insurance.
Sources:
*Results of a national survey of new Answer Financial customers reporting insurance savings in 2022.