Flash floods and driving: how to stay safe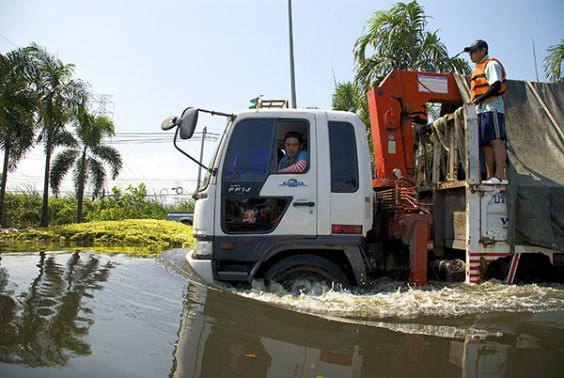 Driving in a storm can be a stressful experience, even for smart drivers with years of experience. The National Weather Service does its best to issue alerts on the TV and radio if there is a flood risk in your area, but sometimes, flash floods can occur without warning. While a flash flood is more likely to happen in a drier area, they have been known to hit all types of terrain and geographical locations, and are sometimes intense enough to destroy everything in their path.
According to the National Weather Service, more than half of the annual fatalities related to flash floods are victims who are trapped in cars. Remember these five helpful tips from Ready.gov to help protect yourself and your passengers if you're ever caught driving during a flash flood.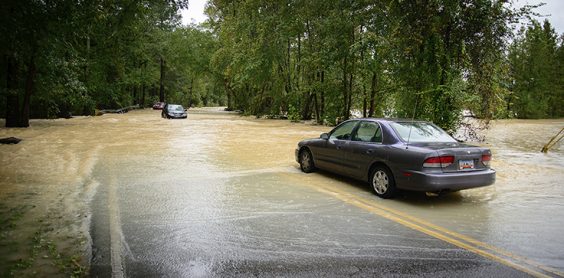 1. ACT WITH URGENCY WHEN A FLASH FLOOD HITS
If you see water rushing across an upcoming road, do not drive into it or go around a barricade. Instead, turn at the next safe intersection and choose another route. Tires may lose traction in a mere six inches of water, and your vehicle may float in waters as shallow as two feet.
2. DURING A FLASH FLOOD, GET OUT OF YOUR CAR AND MOVE TO HIGHER GROUND
Do not assume you are safe in your vehicle when a flash flood hits. Calmly unbuckle your seatbelt, roll down a window, and exit your vehicle through it instead of a door. Opening a door will allow water to quickly fill your vehicle. Move to higher ground, or if you're unable to do so safely by foot, climb onto the roof of your car.
3. ADD A RESCUE TOOL TO YOUR VEHICLE EMERGENCY KIT
If your power windows become inoperable but you need to safely exit your vehicle without opening your door, keeping an emergency hammer in your glovebox can help you break a window and escape before your car fills with water.
4. BE CAUTIOUS OF FALLEN POWER LINES AND FAST-MOVING DEBRIS
Once out of your vehicle, never attempt to wade through flood water. Electricity travels exceptionally fast through water and fallen, high-voltage power lines can be fatal or lead to serious injury. Downed trees, large branches and heavy debris can move quickly in rushing water, posing a major safety risk.
5. KEEP YOUR CELL PHONE DRY AND ACCESSIBLE 
Do your best to keep your cell phone safely tucked in a dry jacket pocket and away from the rain or rushing water. Once you safely reach higher ground, you may need to call 911 to get help from a rescue team.
If you're not in an emergency that requires the help of 911, but do find yourself having driving in a storm, you can pull over and use your cell phone to call roadside assistance at any time.