History in the fast lane: 5 facts about muscle cars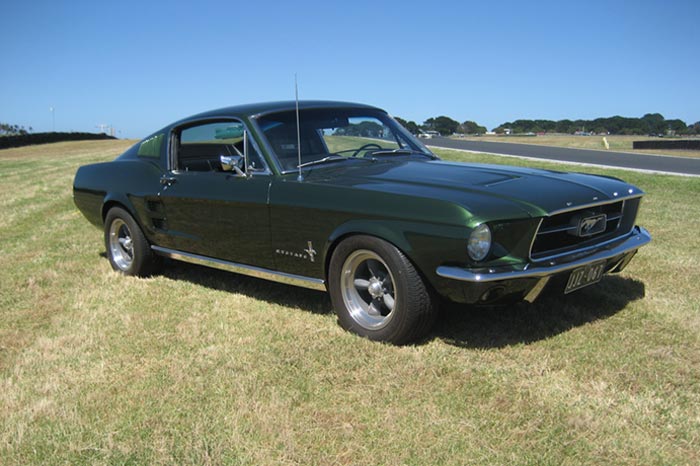 In the middle of the twentieth century, American car manufacturers had a new vision for the automobile. Highways were etching their way across the states, and by the 1950s, family cars were a staple of the suburban home. But things began to change in the 1960s. With more demand on performance, cars went from high-powered suburban cruisers to lean, mean racing machines. Engines got bigger, bodies got lighter, and doors were stripped-down from 4 to 2. This period was essential in the history of muscle cars.
By the 1960s, American sports cars were embracing attitude, getting more brazen and ferocious. Names like "Mustang," "Charger," and "Barracuda" promised to be a terror on the track (and the streets). And while muscle cars may have reached their "golden age" in the '60s, they're just as popular over 5 decades later, a staple of the highway, and a piece of the American zeitgeist. They're time capsules, really — a testament to America's vision, ingenuity, and ambition.
Let's take a road trip through America's automotive history to discover some of the lesser-known facts about muscle cars.
The first muscle car was released in 1949
Before the term "muscle car" was even conceived, Oldsmobile shot for the stars with their sporty-yet-powerful Rocket 88. With a V8 engine, the Rocket offered a relatively scaled-back body, about a foot shorter than its 98-series counterpart. Plus, rumor has it that GM execs actually hated the name "Rocket." Nevertheless, it was a smash success and the line continued to sell all the way through 1999. Perhaps the company had tapped into America's budding fascination with space travel, which soon exploded in the 1950s. (The cinema would be filled with titles like Destination Moon and The Day the Earth Stood Still in following years.)
Fun fact: In 1951, the Rocket was immortalized in the song "Rocket 88" by the band Jackie Brenston and his Delta Cats. Some consider it to be the very first rock 'n' roll record.
No, wait — muscle cars started in 1964. Right?
Hold your horses! There's another contender for the title of World's First Muscle Car: the 1964 Pontiac Tempest LeMans GTO. Following the formula of "smaller car, bigger engine," the GTO was considerably more compact than performance cars of decades past. And with General Motors' engine-size restrictions, the creators of the car had to be a little sneaky in getting it to see the light of day. Working around GM's strict engine-size regulations, the crafty engineers snuck in a 427-incher as a "GTO" option. The Engineering Policy Committee didn't find out until 5,000 cars were built. The car sold so well that it allegedly won over GM execs and their engine provisions. So, a legend was born — paving the way for more muscle cars to come.
Fun fact: Those fancy air scoops on the hood? They sure look cool, but they're really just for show. (If you got it, flaunt it!)
The Mustang is actually a "pony car"
OK, what the heck is a pony car? Maybe we're getting a little geeky with our nomenclature here, but there is a distinction to be made. While the Mustang is arguably the most iconic auto in the greater "muscle car" genre, the discerning enthusiast may give it a different title: a pony car. So what's the difference, anyway? They still follow the formula of "2-doors, big engine," but a pony car is just a bit smaller, with a smaller V8 engine. To the layperson, this might seem like splitting hairs, but for muscle car aficionados, it's a big deal. Other pony cars include the Chevy Camaro, the Plymouth Barracuda, and of course, the Mustang's close cousin, the Mercury Cougar. Mustang purists tend to favor the '68 for its enhanced engine (but we just find the hatchback rather dashing).
Fun facts: The aforementioned Mercury Cougar was built with Mustang parts, but offered an option to upgrade the engine to reach true "muscle car" status. It also features hidden headlights and sequential rear turn signals that flash left to right.
Muscle cars survived the 1970s
Rising gas prices, tightening emissions regulations, and the rise of economy cars made the '70s a tough market for a golden-age gas guzzler — and for good reason. But in 1978, Pontiac had a vision. The same folks who changed the game with the GTO took their Trans Am engine and boosted its horsepower, taking it from 200 up to 220. With the bravado of its '60s counterparts, the '78 Firebird redesign brought a sleeker style, sporting a sharp front end. Some car enthusiasts might muse that it has the elegance of an Italian sports car with the attitude of an American muscle car. An elegant evolution, indeed.
Fun fact: If you've ever seen the movie Smokey and the Bandit, then you've seen the similar '77 Firebird in action (the black-and-gold Special Edition, that is).
The muscle car lives on!
While we usually think of the '60s when it comes to muscle cars, they never truly went away. Though cars have had to adapt to changing emissions standards and environmental realities, the almighty combustion engine has only gotten more efficient with passing years. Remember that 220-horsepower Pontiac from 1978? Well, in the 2000s, we're seeing cars with upwards of 700 horsepower. That simply wasn't possible 40 or 50 years ago. Plus, they've gotten more affordable. A 2023 Dodge Charger will cost you about $83,500 and has 717 horsepower!¹
Who is Answer Financial?
As one of the nation's largest and most reputable auto & home insurance agencies, Answer Financial has insured nearly 5 million homes and vehicles. We work with more than 40+, top-rated carriers to save our customers an average of $557 a year on insurance.* 
On our mobile-friendly website, shoppers can quickly compare rates and customize coverages from multiple home insurers. By simply entering your zip code and home address, Answer can search publicly available records like square footage and year built to deliver side-by-side comparison quotes from reputable insurance companies.
Answer Financial can help you compare, buy and often save the smart way on insurance. So before you shop, remember to rely on your insurance experts to find you the right home insurance plan for your needs and budget.
Sources:
*Results of a national survey of new Answer Financial customers reporting insurance savings 2022.
Dodge.com, "Dodge Charger," https://www.dodge.com/charger.html