Home Improvement New Year Resolutions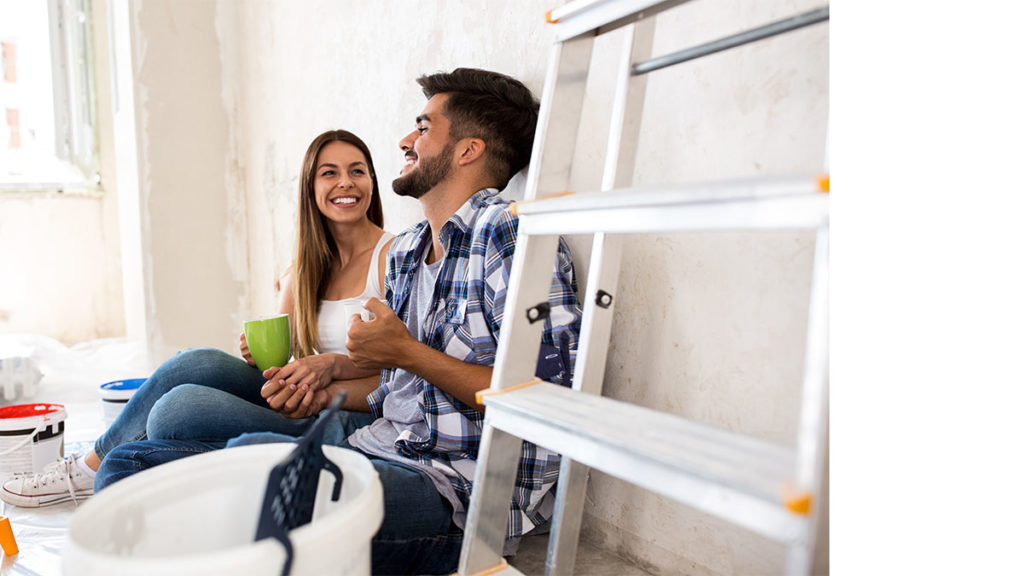 It's a new year, so make it a new home! It may not take a resolution to upgrade your house, townhouse, condominium, or apartment, but it's an opportune time to make a commitment. The right improvements large or small might go far to improve your long-term enjoyment, safety, and financial outlook. Looking for ideas? Let's get started.
Make Your Home Cozier and More Inviting
You spend a lot of time in your home, both alone and with guests. Making your home more inviting to everyone goes a long way. Here are some affordable but effective upgrades you can make this year:
Photo collages – A photo wall is a great way to add a personal touch to your home. Make a framed collage by choosing a bunch of pictures that have a common theme. You can buy collage frames pre-made or group individual frames for added style.
New plants – Even if you don't have a green thumb, there are all sorts of plants that are easy to care for and can improve the mood and air quality of your home. A good indoor plant needs less humidity and less light than most outdoor plants.
Better lighting – For get-togethers with friends, improved lighting can work wonders. Installing a dimmer switch is a simple upgrade almost anyone can do. New fixtures are also easy to take with you, even if you're renting.
Kitchen upgrades – Kitchen improvements can often be high on bang-for-your-buck returns. Even if you're a renter, putting in new barstools, herb gardens, artwork or window coverings are good ways to freshen your space.
Home theater – Prices on large 4K TVs continue to get lower and lower. With a simple rearrangement of furniture and possibly a new lounger or ottoman, you can enjoy a theater experience at home.
Save on Energy Bills (and Reduce Your Carbon Footprint)
Looking for ways to help save the planet while potentially leaving more in your bank account every month? Improving your home's energy needs is an excellent move that may help save money in the long run.
Install more LED bulbs and low-flow showerheads.
Plug in smart power strips that put your appliances in sleep mode when not in use.
Buy a tax-deductible energy-efficient appliance or home upgrade.1
Upgrade your insulation to something more appropriate for your climate.2
Elevate Your Curb Appeal
Improving how your home looks from the exterior isn't just about resale value. Because you see the front of your house every time you arrive home or spend time outside, exterior updates may also improve your quality of life. Here are some easy ways to upgrade your home exterior:
Plant colorful flowers or shrubs to make the front of your home more appealing.
Accentuate your walkways and garden areas with easy-to-install solar lights.
Give your front door a pop of turquoise, red, or sunny yellow to make the most visible side of your home a showstopper. You could also update your windows to something more modern or just give them a fresh coat of paint.
Give your driveway and any walkway a good pressure-washing for a satisfying way to improve the looks of your home in just a day.
Paint an old, tired mailbox for a simple way to update your curb appeal for no more than the cost of a can of paint. Just remember to check with the postal service or HOA for current guidelines.
Put modern house numbers by your front door or mounted on a sign in your yard for a chic way to greet guests.
Make Safety Improvements
From radon to fires, there are all sorts of accidents that can happen in the home. Here are things you should do to help prevent very costly accidents and repairs.
Radon gas is a natural substance that may be found in the dirt and rocks beneath houses that can enter homes through soil, crawlspaces, foundation cracks, floors, and walls.3 Breathing high levels of radon can put you at risk for lung cancer and checking for it is as simple as an inexpensive 2-day or 90-day test kit.
Carbon monoxide is another deadly gas. Installing a carbon monoxide detector typically costs about as much as installing a smoke detector.
More than one-third (38 percent) of home fire deaths result from fires in which no smoke alarms are present.4 Check the expiration date of your batteries and detectors.
You probably clean the lint trap in your dryer, but many people neglect to clean the vents and ducts behind the dryer. Lint may seem innocent, but it's highly combustible, accounting for more than 15,000 building fires a year.5
Save on Home or Renters Insurance
Your home and all your possessions inside are likely among your most valuable assets. Some home improvement ideas can be inexpensive, but the wrong insurance can quickly become costly. The beginning of any year is a great time to take inventory of what you have adequately covered and to think about which deductibles make the most sense for your prized possessions. Also, when you make any major renovations to your home or when you acquire a high-value item you may want to think about adding coverage to fully protect it. The good news is that rethinking your insurance is also an excellent way to save money.
Who is Answer Financial?
Taking an assessment of your home's coverage needs is an excellent opportunity to get all your insurance coverage from the same place and save at the same time. Answer Financial lets you quickly compare rates and customize coverages from 40+ top-rated companies. Or call 1-800-258-5101 to speak about your individual needs with one of our experts.