How to Prepare for a Weather Related Emergency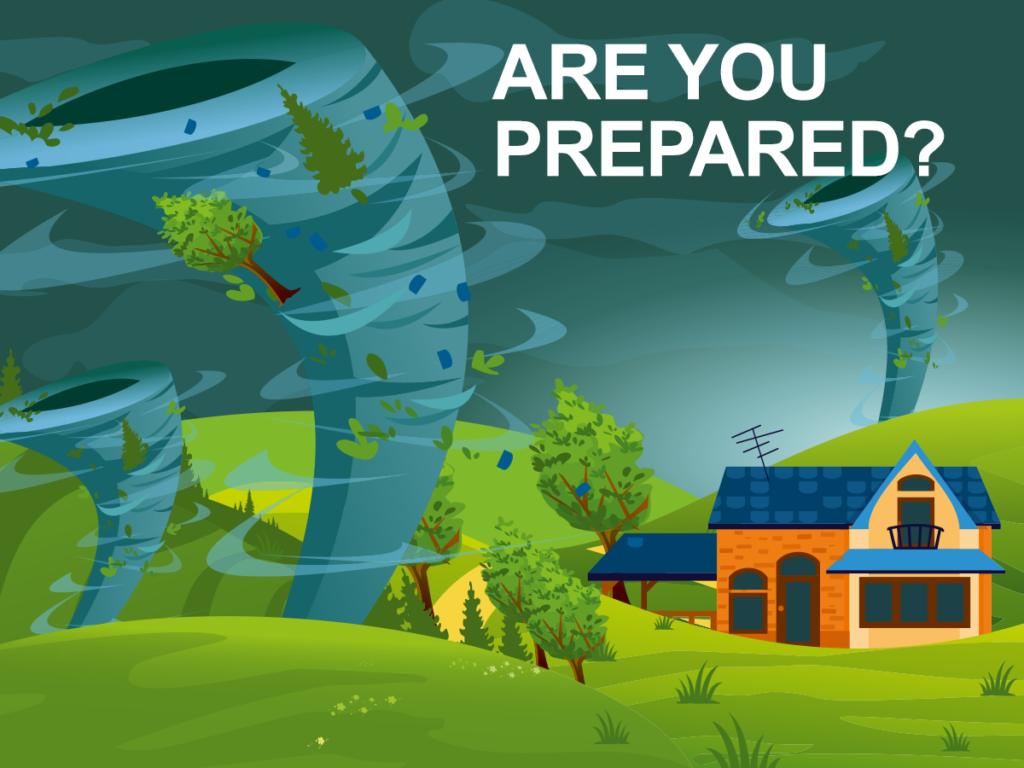 As advanced as weather tracking has become, despite fancy radar systems, it's still unpredictable. The best you can do is plan for anything – here's how.
Before the Storm
Understand warning systems that exist in your area (such as sirens or text alerts). Keep a battery-powered radio (and batteries) for local news broadcasts. It's also a good idea to fill your gas tank. If the forecast looks grim, checking on the five P's can help you stay organized.
Get people (and pets) to safety
Safeguard important papers, such as birth certificates
Refill prescriptions
Safely store priceless items
Pack personal needs, such as clothes, non-perishable foods and bottled water
Flooding
Know the Signs: Floods happen fast, so you'll need to move quickly. Know the best evacuation routes in your community, as well as any flood and landslide-prone areas. Have sandbags ready to build a barricade when you see water creeping toward your house.
After the storm: Be wary of moisture in the house. Wear rubber gloves and boots and discard any items that can't be disinfected like rugs, drywall and wall coverings. Don't drive into flooded areas.
Tornadoes
Know the signs: When conditions are favorable for tornadic activity, know that the warnings can be short and you'll need to react quickly. Heavy rains are often followed by a quick or sudden wind shift, and then the funnel clouds form.
When it happens: proceed to the part of your building that is most secure, usually an interior area.
After the storm: Be mindful of debris. Watch out for damaged power lines, gas lines and electrical systems, as well as falling objects from trees and damaged buildings.
Wildfires & Droughts
Know the signs: Though they can strike at any time, dry conditions and droughts increase the potential for devasting wildfires.
When it happens: Stay indoors to limit exposure to smoke, and be aware that smoke can lead to hazardous driving conditions. Tune to local radio, and follow your community's evacuation plan when directed.
After the fire: Watch out for damaged power, gas and electrical lines, as well as falling debris from compromised buildings. When trees and vegetation burn away, the ground is dry and can't absorb water. If a rainstorm hits, the area can be prone to flooding.
Hurricanes
Know the signs: Luckily, hurricanes tend to arrive after a good deal of warning. Local weather reports can keep you updated on impending storms.
When it happens: Seek shelter indoors, away from windows.
After the storm: Avoid using any damaged electronic devices and turn off your power at the main breaker if you need to because of water damage. Check on elderly neighbors to make sure they are safe.
Who is Answer Financial?
Answer Financial is one of the largest personal lines insurance agencies in the U.S. and works with dozens of top-rated insurers to help people like you save an average of $504 a year on their insurance needs.* From auto and home to renters and flood, we understand no two people are alike. On our mobile-friendly website, insurance shoppers can quickly compare rates, get quotes and purchase policies. If you have any questions along the way, our licensed insurance experts are standing by to provide over-the-phone guidance.
Sources:
*Results of a national survey of new Answer Financial customers reporting insurance savings in 2022.