Tips & Good Habits for Motorcycle Riding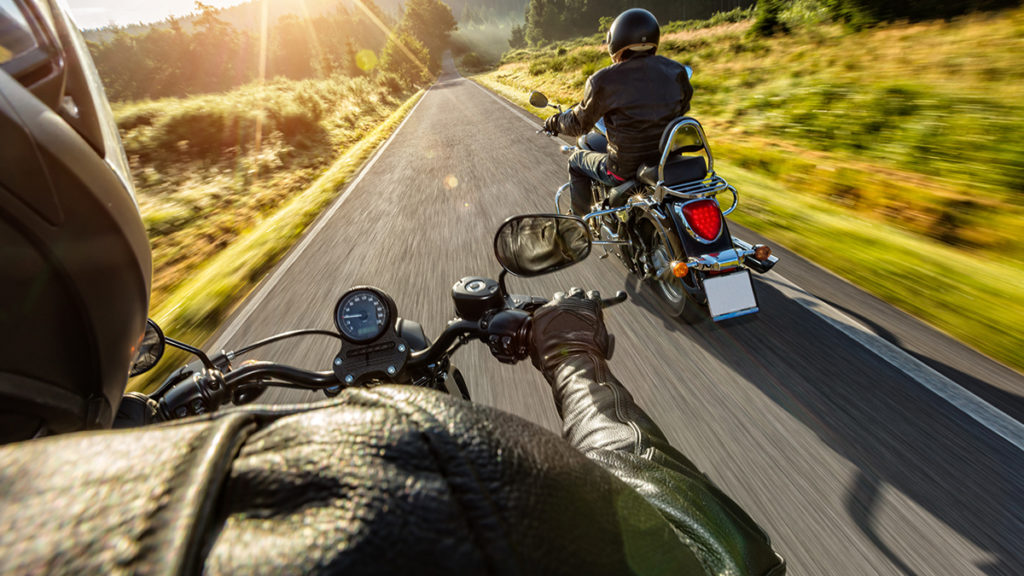 Riding a motorcycle can be a lot of fun, but it's important to learn good habits so you can do it safely. If you don't know what you're doing and haven't properly prepared, you could be putting yourself at risk. If you want to ride like a pro, consider these motorcycle riding tips:
Train and Practice
Whether you're just starting out or want to learn more advanced skills, taking motorcycle training classes is one of the best things a rider can do. A number of states actually require rider education in order to be licensed, says the Motorcycle Safety Foundation (MSF).1 These are usually hands-on lessons that include basics on safety, how the motorcycle operates and the proper way to ride.
The only way to get comfortable on your bike and to perfect riding techniques is to practice. Find an empty parking lot or, depending on your motorcycle, an open field where you can get a feel for your particular bike and how it handles. Motorcycle.com recommends driving in clockwise and counterclockwise circles as well as figure eights to practice your turning.2 This is also a good place to practice making hard stops without slamming on the brakes.
Prepare Your Bike
It's a good idea to check the motorcycle from top to bottom before every ride, according to Motorbike Writer.3 This includes checking for fluid leaks, examining lights, signals, brakes, the belt, the chain and tires, and adjusting the mirrors. The MSF has an inspection checklist that can be helpful in remembering what to look over.4 It is also a good idea to keep up to date on the manufacturer's recommended maintenance, including routine oil changes.
Wear the Right Gear
You should always have safety attire on, no matter how long or short the ride. The MSF notes that the appropriate gear will not only help protect you, it can also help keep you comfortable in various conditions.5 There are a lot of options available, but the MSF says the basics you should consider are:
Helmet: While helmet laws vary state-to-state, riders should wear a full-face helmet that meets the Department of Transportation standards.6
Clothing: Wear a jacket, pants or riding suit made of abrasion-resistant materials or leather. A pair of boots that cover the ankles and full-fingered gloves with padding on the palms are also a good idea. Consider choosing bright colors and reflective materials so you are more visible to other drivers.
Eye Gear: The windshield on your bike is typically not enough protection for your eyes. If your helmet does not have a shield, consider a pair of riding goggles.
Turn Carefully
It's important to learn how to lean into a turn — you do not want to stay perpendicular with the road, but you don't want to lean so far that you tip the bike over, according to the MSF. As you turn, slow down and then move the handlebar in the direction you want to go. Keep your feet on the pegs and your knees close to the gas tank, says the MSF. Lean into the curve, and look where you are going instead of straight ahead — focusing on where you want to go. The MSF also recommends keeping an even throttle or accelerating just slightly through a turn.
Drive Defensively
Sharing the road is important, but other drivers are not always looking for bikers. It's important to be a defensive driver and assume car and truck drivers don't see you, says the National Safety Council (NSC).7 Position yourself to be seen, and turn on your headlights whether it's day or night. The NSC also recommends being especially careful in intersections, which is where many collisions occur. Keep an eye out for hazards, such as potholes, puddles and debris in the road.
Who is Answer Financial?
Even the best motorcycling habits cannot replace a motorcycle insurance policy that fits your needs. Over the years, Answer Financial has helped nearly 4 million people like you find the right coverage for their homes and vehicles, including motorcycles. One of the easiest ways to try and save on coverage from top-rated insurance companies is to visit our website to quickly compare rates and customize coverages from multiple companies.
Sources:
1."Cycle Safety Information," Motorcycle Safety Foundation, https://www.msf-usa.org/downloads/State-Motorcycle-Operator-Licensing-CSI-2018.pdf
2."Ten Motorcycle Riding Tips, Tricks And Techniques," Motorcycle.com, https://www.motorcycle.com/top10/ten-motorcycle-riding-tips-tricks-and-techniques.html
3."Pre-ride checklist for your motorbike," MotorbikeWriter, https://motorbikewriter.com/pre-ride-checklist-motorbike/
4."T-CLOCSSM Inspection Checklist," Motorcycle Safety Foundation, https://www.msf-usa.org/downloads/T-CLOCS_Inspection_Checklist.pdf
5."Personal Protective Gear For the Motorcyclist," Motorcycle Safety Foundation, https://www.msf-usa.org/downloads/Protective_gear_REV.pdf
6."Helmet Law," Insurance Institute for Highway Safety, Highway Loss Data Institute, https://www.iihs.org/topics/motorcycles#helmet-laws