Bowl championship series + car insurance rates – infographic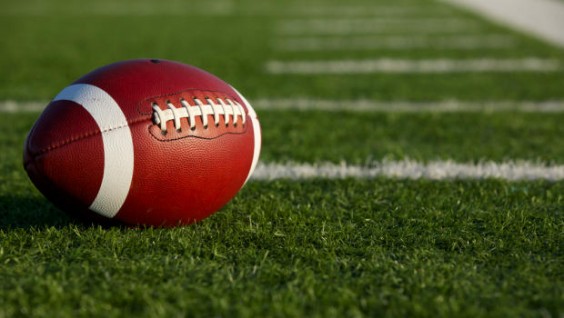 Although we're not a pigskin prognosticator, here at Answer Financial we looked at car insurance rates for the college towns* with teams scheduled in the Bowl Championship Series games and here's what we found (click on the image below to make it full-screen):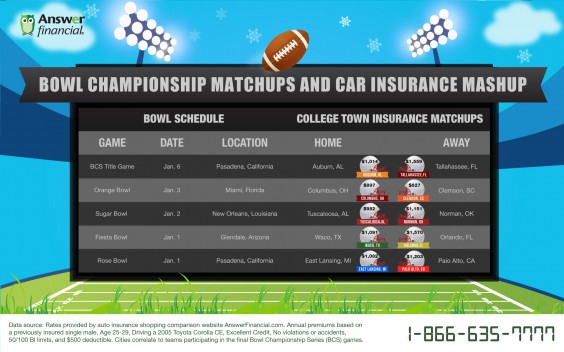 Auburn made football history after a now legendary play dubbed the "kick six", Chris Davis' 109-yard return of a last-second missed field goal by Alabama, to launch itself into the title game. Despite its surprising defeat of Alabama, Florida State is slightly favored. However, when it comes to insurance, Auburn comes out on top, paying a third less for the same coverage as Tallahassee.
Alabama missed its chance at the championship but will likely bring home the win at the Allstate Sugar Bowl® against the University of Oklahoma. In our test, Tuscaloosa drivers also paid about $170 less than those in Norman.
In perhaps the most interesting matchup at the 100th Rose Bowl Game, Michigan State and Stanford both boast great defensive lines and were very closely ranked. In a game that proved to be a nail-biter, the Spartans managed to tie up the game in the third quarter and seal the deal in the fourth. In the race for lowest rates on auto insurance, it's another tight competition, with East Lansing edging out Palo Alto, CA by $121.
Baylor sailed into Glendale, AZ with one of the widest spreads among the bowls, predicted to beat Central Florida by a whopping 16.5 points, but the Knights played a fierce game, leading each quarter and winning the game, 52 to 42. Baylor's home in Waco, TX fared better, beating "O-Town" to the tune of almost $500 less in premium.
Finally, Ohio State is favored over Clemson in the Discover Orange Bowl. While both cities have our two lowest insurance premiums, Clemson, SC, has the slight edge at $827 versus Columbus' $897. Go, Tigers!
If you're paying too much for auto insurance, compare and save either online or with an Answer Financial agent at 1-866-635-7777.
* Data Source: Rates provided by auto insurance shopping comparison website AnswerFinancial.com. Annual premiums based on a previously insured single male, Age 25-29, driving a 2005 Toyota Corolla CE, excellent credit, no violations or accidents, 50/100 Bodily Injury limits and a $500 deductible. Cities correspond with 2013 Bowl Championship Series (BCS) final team matchups.