Candle Safety Tips During Fall and Winter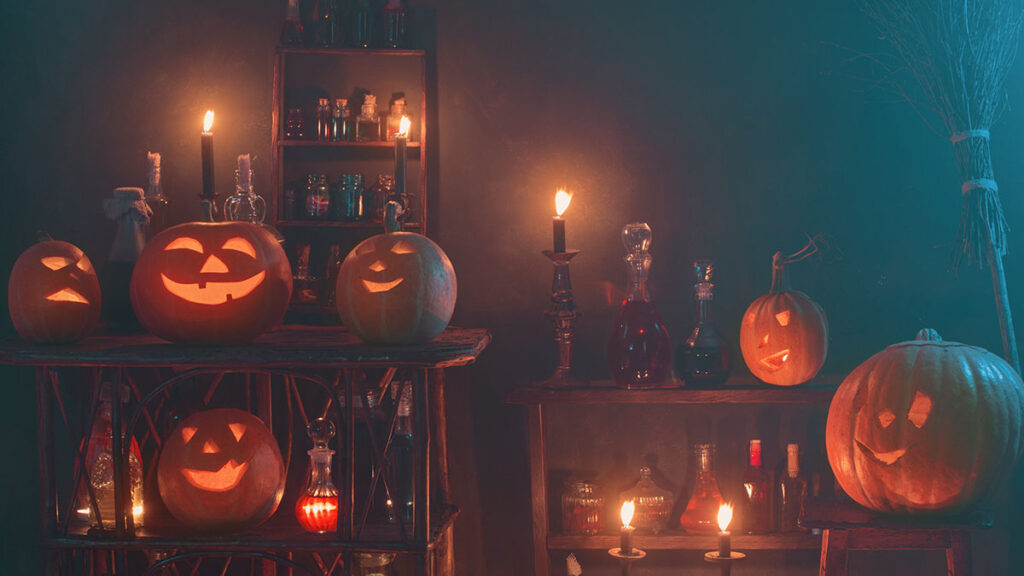 From pumpkins at Halloween to festive lighting for the holidays, fall and winter are traditionally popular times to bring candles out of storage. But even the smallest of flames can do major damage without the right precautions. Here are some helpful candle safety tips to help protect your home from an all-too-common fire hazard.
Understand the Risk
According to the National Fire Prevention Association, candles cause 6% of home fire injuries, 4% of the direct property in home fires, 3% of home fire deaths and 2% of reported home fires.1 During this same period from 2015 to 2019, there were 20 reported home candle fires per day.1 Practicing proper candle safety is critical for keeping your home and everyone in it safe.
October is a popular month to start enjoying candlelight, but Halloween safety should always come first. The Thanksgiving season is a high-risk time as well, but December is known to be the peak month for home candle-caused fires.2 Decorations were one of the first items to ignite in roughly 800 reported home fires each year—and more than one-third began with candles.3
Practice Safe Habits
Looking for the top ways to stay safe AND use your festive candles during these months? Here are our top tips for candle safety:
This applies to every season, but make sure your home has working smoke alarms on each floor and every sleeping room.
Tell children to stay away from open flames including jack-o-lanterns with candles in them.3
Be sure children know how to stop, drop, and roll if their clothing catches fire.3
Dried flowers, cornstalks, and crepe paper catch fire easily. Keep all decorations away from open flames.3
Be sure to place lit pumpkins away from anything that burns and far from doorsteps, walkways, and yards.3
Keep matches and lighters out of children's reach, in a locked cabinet.2
Blow out all candles when you leave the room or go to bed. Avoid the use of candles in the bedroom.2
Don't burn a candle all the way down — put it out before it gets too close to a holder or container.2
Keep candles at least 12 inches from flammable materials.4
Use sturdy and safe candle holders.4
Don't allow children or teens to have candles in their bedrooms.4
Find a Candle Alternative
While candles can add memorable ambiance to holiday decorations, they are most safely enjoyed within close reach. In cases where candles would be unattended, alternative lighting is a much better choice.
Because children are often tempted to play with jack-o-lanterns, battery-operated candles or glow sticks make a superior choice for safety.2 Consider lighting a path to your home at Halloween with low voltage outdoor lighting instead of candles that are easily kicked over by children.
If you experience a power outage during the season, you can rely on flashlights instead of candlelight whenever possible. Never use a candle to see when checking pilot lights, fueling equipment, or in confined spaces.4
If you want the look and smell of real candles during the winter holiday season, consider flameless candles.3 Many come in scents like vanilla that offer the look and feel of the real thing without the risk.
Update Your Home or Renters Policy
Fires can occur with or without candles, so it makes sense to have the right home insurance coverage year-round. Heaters, flammable holiday decorations, and unsupervised lit candles can all contribute to an increased risk of fire during the winter months.5 A good home or renters insurance policy can help protect your home and belongings from fire-related accidents and disasters like grease fires, electrical fires, forest fires, lightning, and water damage from an automatic fire-protective sprinkler system.
Who is Answer Financial?
However you celebrate the fall and winter holidays, it's wise to prevent or prepare for unexpected emergencies. Your home is often one of your most valuable assets and a fire can quickly destroy the entire structure and everything within it. Fortunately, the insurance experts at Answer Financial can update your home or renters insurance and help you save at the same time. Our comparison tools let you quickly compare rates and customize coverages from top-rated companies. Or simply call 1-800-258-5101 to personally speak with one of our experts.