Tips to Prepare for Any Emergency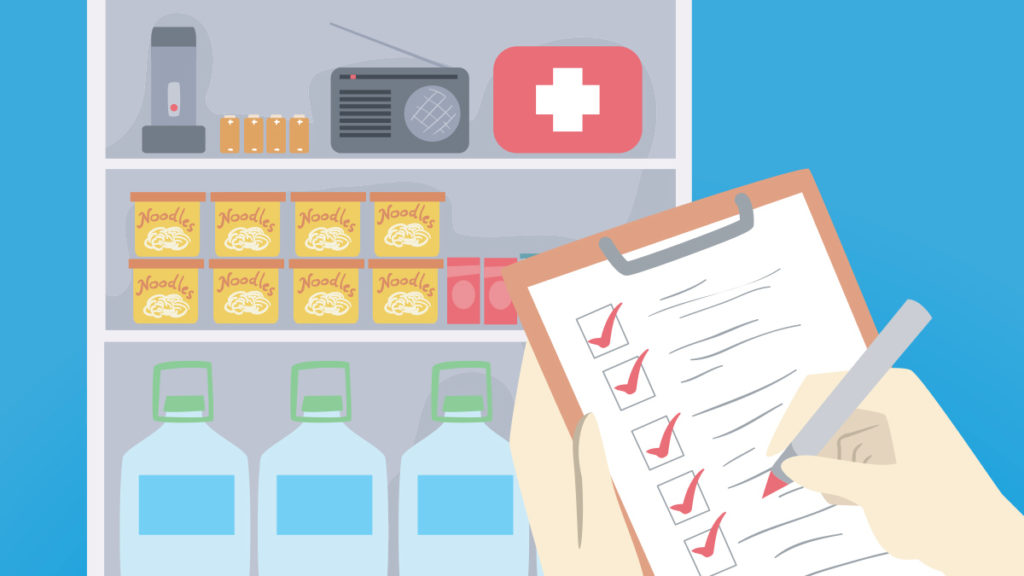 September is officially National Preparedness Month, but emergency readiness deserves to be celebrated year-round.  After all, disasters often tend to strike when you least expect them, and a bit of preparedness can go a long way to increase your safety during an event—or speed recovery during the aftermath of one. Whether you want to keep your household safe or protect your most important belongings, these tips can help make it much easier to get through any emergency.
Make a Plan
Emergencies, especially natural disasters, can quickly leave you scrambling to find food, shelter, or medical care. If you live on the East or Gulf Coasts, hurricanes are a likely disaster scenario, while if you live in a dry western state, forest fire or earthquake preparation should be on your list. Ready.gov has pre-made plans for nearly every kind of natural disaster, from avalanches to tsunamis.1 Try to consider every possible emergency that could happen in your geographic area. Make a specific plan for things to do before, during and after the event. It could be one of the most important lists you ever make!
Teach the Plan
Once every adult in your household is aware of the plan, it's important to teach the plan to every child or elderly adult under your care. While everyone in your household might not be capable of doing the (sometimes literal) heavy lifting in the middle of an emergency, even young children need training on how to stay safe. Making this a fun activity is important to get everyone involved. Ready Kids is a Ready.gov site with many tools and information you can use  for help before, during and after a disaster.2
Keep an Emergency Kit
After any emergency, it's smart to be prepared to survive on your own for several days before help arrives. You can store food, water, and essential supplies in an easy-to-carry bag or container within easy reach inside your home. If you have a vehicle, we recommend keeping another emergency kit in your car at all times. A basic kit might include at minimum the following items:
Water (one gallon per person per day for several days)
Food (at least a three-day supply of non-perishable food)
Battery-powered or hand crank NOAA Weather Radio
Flashlight
First aid kit
Extra batteries
Face masks (for pandemics or to filter contaminated air)
Duct tape
Multi-tool or tool kit
Cell phone charger and a backup battery
After putting your kit together, remember to periodically check the expiration dates of food and batteries. It also makes sense to rethink your supplies each year as your needs change.
Keep Communication Open
In a pending emergency, most of us reach for our smartphones first. While our phones can be an important first line of information, the reliability of a wireless network can be spotty or nonexistent in a serious situation. Public safety officials use many timely and reliable systems to alert the masses in an emergency. Being prepared to receive warnings or updates during all kinds of disasters can be crucial. Here are 3 lines of communication we recommend always keeping open:
WEAs: Wireless Emergency Alerts are short emergency messages from authorized government officials. Check the settings on your mobile device and review your user manual. Some cell phone models require you to enable WEAs.
EAS: Emergency Alert System is a national public warning system that allows the President to address the nation during a national emergency. Places to receive EAS messages include over-the-air radio and TV broadcasters, as well as cable providers.
NWR: NOAA Weather Radio broadcasts official warnings, watches, forecasts, and other hazard information 24 hours a day, 7 days a week. NWR also broadcasts alerts of non-weather emergencies such as national security or public safety threats. If your power is out or your local cell phone tower is down, a small battery powered or hand crank radio (already in your emergency kit) can be an important lifeline to learn what is happening.3
Update Your Insurance Policies
Although your personal safety and the safety of your loved ones are the first consideration during an emergency, protecting your financial assets is important to any recovery. At least once a year you should reassess coverage for your home, apartment belongings, car, and other expensive assets such as boats or motorcycles.
While lenders usually require that you carry a certain level of liability on big-ticket items, you want to make sure that your items are covered at or near replacement value if you want to get back to normal as soon as possible. Bundling your policies is a good way to try and save while increasing your coverage. Answer Financial's insurance experts are ready to help you quickly compare quotes from over 30+ top-rated insurance companies.
Who is Answer Financial?
Being prepared for the worst makes you a realist, not a pessimist! It is also likely to keep you and everything that's important protected during a disaster. At Answer Financial, we're ready to help you find the right insurance for any emergency that might come your way. Call 1-888-737-7000 to talk about coverage, or visit our site to get quotes in 10 minutes or less.
Sources:
1 "Disaster and Emergencies," Ready.gov, https://www.ready.gov/be-informed
2 "Welcome to Ready Kids!" Ready.gov, https://www.ready.gov/kids
3 "NOAA Weather Radio,"National Weather Service, https://www.weather.gov/nwr&ln_desc=NOAA+Weather+Radio/