I Just Started a Small Business. Do I need Commercial Insurance?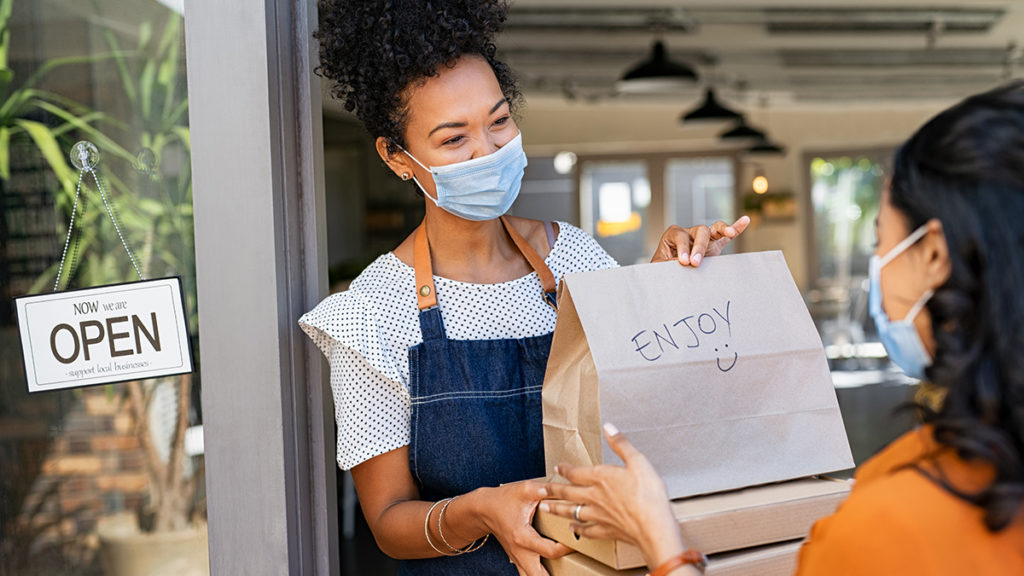 Did you know there are more than 30 million small businesses in the United States, ranging from nutritionists and personal trainers to financial advisors, website designers – the list goes on!1 If you're lucky enough to work for yourself, you deserve a high five! Owning a small business is something many of us only dream of. While it comes with some serious perks, like setting your own schedule and being your own boss, owning a small business also comes with great responsibility. Before opening shop, it's wise to speak with an insurance expert about the types of commercial insurance your small business needs for protection against financial damages, injuries and more.
It's common for small business owners to invest much or all of their savings into their company when getting started. Without the right commercial insurance in place, a large financial loss could be devastating. A huge loss would not only hurt the stability of the business, but the business owner's personal life as well. The type of business you operate will determine the types of coverages needed. A real estate agent will probably have different risks than a coffee shop owner. A licensed insurance agent can help you find the right commercial coverages for your small business, at the right price.
Regardless of your business model, there are a few core coverages most small to mid-sized companies will need. Here are some of the most common:
BOP (Business Owners Policy)
A business owners policy (often referred to as a BOP) is arguably one of the most important commercial insurance coverages for small business owners to consider. A BOP is essentially a combination of property and general liability insurance, bundled together to provide an affordable solution for a broad group of business types.
Property insurance covers things like buildings and its contents, while liability insurance protects your business from legal responsibility if it causes harm to others. Keep in mind, other commercial coverages are often needed in addition to a BOP, like commercial auto, workers compensation or others to protect your employees and company property, like vehicles.2
Commercial Auto
Whether you have a fleet of drivers delivering products for your business each day or a couple of employees who occasionally drive to off-site meetings or events, you may be required to carry commercial auto insurance. Coverage like this can offer on-the-road protection to the people and vehicle that contribute to your business.
If you're unsure if you need commercial auto insurance, and if so in what capacity, a licensed insurance expert can help. They'll ask how the vehicles are used, who will be driving them, if the vehicles are owned or leased and whether you and your employees drive your own cars or company cars for business purposes.3 Your responses to these questions will help indicate the right types of coverage for your business.
Workers Compensation
Many people are employees of small businesses, from restaurant workers to swimming pool maintenance crews. Responsible business owners often want to provide benefits to their employees, while simultaneously protecting their business, in case work-related injuries occur.
In most states, employers are required to have workers compensation insurance when they have a certain number of employees, these requirements vary by state. Workers compensation would help pay for a portion of lost wages, in addition to medical care, for an employee who was injured on the job, regardless of who was at fault.4
Who is Answer Financial?
Finding the right commercial insurance for your small business might sound like an exhausting task, which is why our licensed insurance experts are here to help. Answer Financial is one of the largest personal lines insurance agencies in the United States. We work with 40+ of the nation's top-rated insurance companies to help customers save an average of $509* a year on insurance, from auto and home insurance to small business, motorcycle, flood, RV and more.
If you already have coverage for your small business, we recommend calling an Answer Financial agent to see if you have the right coverage and if you could be saving. Visit our mobile-friendly website to quickly compare rates and customize coverages from multiple insurance companies in minutes. Or, give us a call at (800) 258-5101. Answer Financial can help you compare, buy and often save the smart way on insurance.