Prepping for Ski, Snowmobile, and Winter Sports Season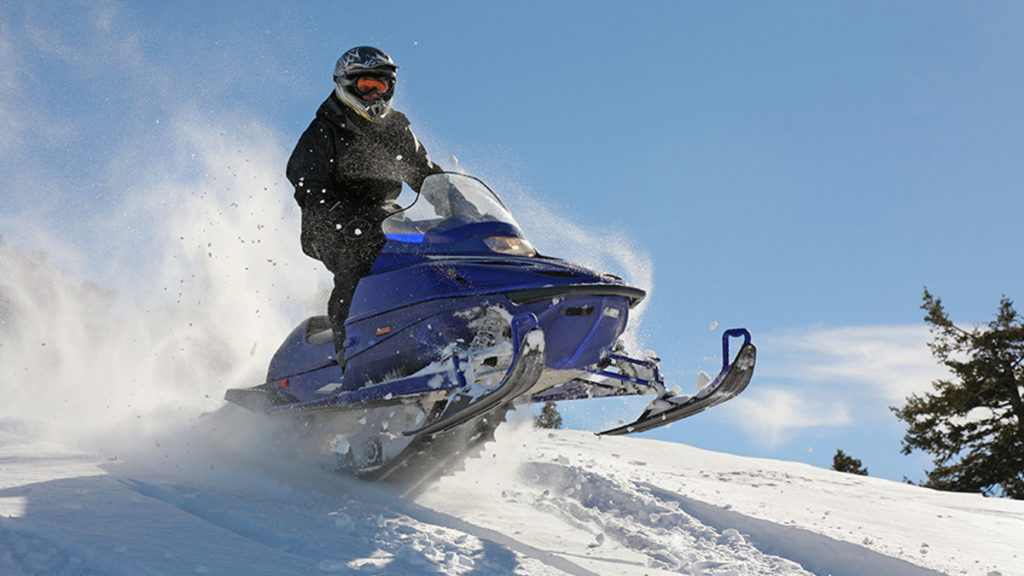 If you love winter sports, this might be your favorite time of year! Whether you prefer the peace of cross-country skiing, the rush of downhill, the freedom of snowboarding, or the thrill of snowmobiling, there's something for almost everyone during the winter season. As you head off to new adventures, these tips can help you enjoy a more carefree winter.
Know the Laws in Your State
Most US states experience regular snowfall, but there's no standard way that states regulate winter sports. Two types of laws can affect you: the rules of the road and the rules of the trail.
Whether you're towing a trailer or not, proper snow tires offer a crucial winter edge. Snow chains can also be required depending on conditions, so make sure to carry a set in your emergency kit.
Snowmobiles usually weigh around 500 pounds and the trailers to transport them can be up to 1,000. The amount that you can tow without trailer brakes may vary state to state, so make sure to review the rules for your state before heading out.
Rules of the snowmobile trail, from helmet usage to where you can operate your sled, vary by state. Some sites offer a helpful state-by-state summary.1 Skiing laws increase safety as well as define liability for both skiers and resorts. Awareness of your state's particular rules can help protect yourself and others.2
Tune Up Your Equipment
Maintaining your gear is not only crucial to enjoying the outdoors—it can also be a matter of safety. Experts generally recommend tuning up your skis and snowboards every 20 days of usage. Rely on a skilled professional for a proper ski wax, edge sharpening, and bindings check.
Proper snowmobile maintenance can be complex, but crucial to not risk being stranded in the backcountry. Maintaining your sled shouldn't end with a pre-season tune.
To minimize breakdowns and keep your machine performing for years, regular tune-ups during the season are important. A well-cared-for snowmobile engine could also have a lower environmental impact and provide better fuel economy.
Transport Your Winter Sports Gear Safely
Many best practices for transporting an ATV apply to towing a snowmobile. Open trailers are lighter and cheaper, but closed trailers protect your investment in harsh conditions. Even if you're not riding into a snowstorm, salt and grime can make it harder to maintain your sled.
Transporting winter sports gear like skis and snowboards is fairly simple, but a quality rack may help keep your equipment secure.
Better yet, invest in a lockable roof box to protect equipment from thieves and other dangerous elements. 
Be Properly Insured
Similar to insuring summer toys, it's a good idea to keep coverage for expensive winter toys all year long. Accidents can happen during the off-season, and if you have a loan on your snowmobile, it might be a requirement by your lender.
Carrying umbrella insurance can also make sense. Skiing and snowmobiling are by nature risky sports, so it can be reassuring to carry excess liability beyond basic auto and home insurance. Umbrella insurance can help protect you from serious financial consequences for injuries, property damage to others, certain lawsuits and personal liability situations.
Who is Answer Financial?
Answer Financial has helped nearly four million customers find the right coverage for their vehicles and motorized toys. We work with more than 40 top-rated insurance carriers to save our customers an average of $509 a year on their insurance needs.* Whether you're searching for auto insurance, umbrella insurance, or snowmobile coverage, shoppers can quickly compare rates and customize coverages from multiple insurance companies.
Sources:
1 "Snowmobiling State Laws and Rules," Snowmobilers.org, https://www.snowmobilers.org/snowmobiling-laws-and-rules.aspx
2 "Ski Laws By State," SkiLaw.com, https://chalatlaw.com/skilaw/ski-law-by-state/
*Results of a national survey of new Answer Financial customers reporting insurance savings in 2020.