Who Pays More for Auto Insurance: Red States or Blue States?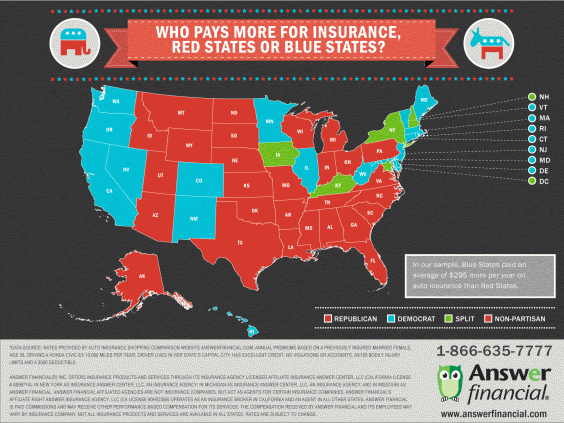 Today's Senate elections will settle some hotly debated races, and with politics on the cumulative mind of the nation, we elected to look at the race in another way: which political party wins for lowest auto insurance?
With Democrats in current control of the Senate, we're highlighting states with seats up for grabs this election. Here's how they compare:
Colorado has a split-seat senate and a tight race this year, making them one to watch this election, but not necessarily for our insurance list where the state comes in at 36th place. Our Coloradoan friends ought to shop regularly to maximize savings.
A handful of states with Republican-dominant governments have surprisingly close races with their Democratic counterparts. Where insurance is concerned, Alaska, Arkansas, Kansas, Louisiana and North Carolina rank in the mid-to-low range, with North Carolina and Kansas coming in at 14th place ($902/yr) and 18th place ($949/yr), respectively to protect their vehicles. In states with competitive insurance rates, the best way to find a deal is to compare.
Michigan Republicans, on the other hand, may lose a seat this year but are in no real danger with a strong partisan foothold in the state. At $1,649 per year on insurance, however, the Wolverine State has room to improve, ranking 43rd on our list. We can help you with that Michiganians!
The upper houses for West Virginia and Georgia are rumored to lean right, but impact will likely be minimal with the red party's existing stronghold. Both states are out of the race for lowest insurance prices, ranking 48th and 44th highest on our list.
Our Overall Findings
Based on our sample, Democrats pay almost $300 more per year on auto insurance. Despite having the #1 least expensive state for insurance – Nevada at $727 – blue states include seven of the ten most expensive states for drivers. See how your state ranks: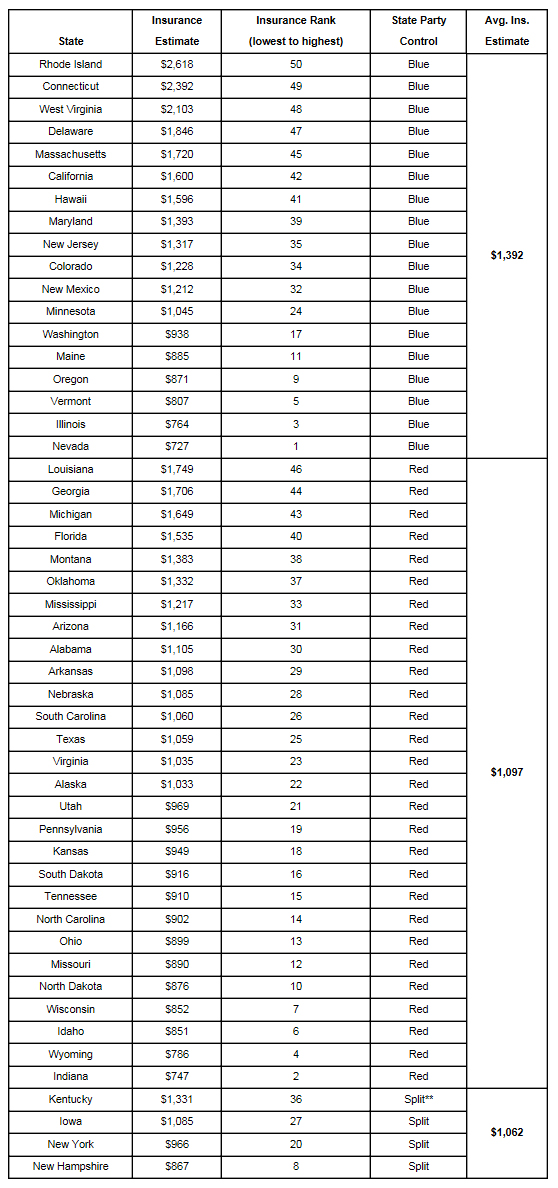 Answer Financial partners with more than 20 insurance companies, allowing you to compare quotes from qualifying providers in your area, like Esurance, Progressive, Safeco and Dairyland. To compare rates and see how much money you can save per year, visit us at www.AnswerFinancial.com.
* Data source: Rates provided by auto insurance shopping comparison website AnswerFinancial.com. Annual premiums based on a previously insured married female, age 35, driving a Honda Civic EX 10,000 miles per year; Driver lives in her state's capital city, has excellent credit, no violations or accidents, 50/100 Bodily Injury limits and a $500 deductible.
** The following split control states were excluded from this comparison: Iowa, Kentucky, New Hampshire, and New York.