Why It's a Good Idea to Insure Summer Toys Year-Round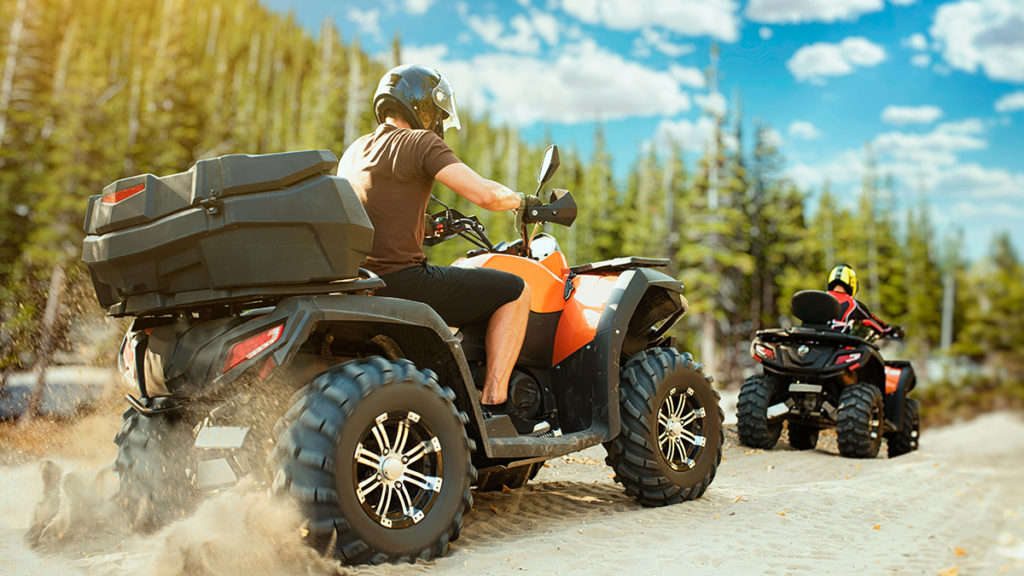 Summer is the season even grown-ups come out to play. Whether you own a boat, motorcycle, recreational vehicle, ATV, sports car, or several of the above, summer is one of the best times of year to enjoy your favorite motorized vehicle. Of course, to keep your prized and expensive investments from accidents or theft, you'll want to keep them adequately insured. While it might seem tempting to carry an insurance policy only during fair weather months, there are several reasons that's not the best idea.
Weather Doesn't Take Time Off
While summer and the surrounding months are some of the best times to be outdoors, the off-season can be harsh even if your insured toy is "safely" parked. Hurricane season has ruined many ATVs and motorcycles with water damage, and even dry-docked boats are not immune. Other foul weather can also damage your toys, including, but not limited to: hailstorms, floods, tornadoes, lightning strikes.
Accidents Can Occur Any Season
Depending on the type of vehicle you are insuring, and the coverage on your policy, your summer toy should be covered from fire, theft, and vandalism. These are incidents that are just as likely to happen in the off-season as during the summer. For instance, even if your boat has been winterized and placed on a trailer, it's just as susceptible to theft regardless of season. Other scenarios:
You leave your RV parked in your driveway in the winter, but occasionally use it as a guest house. Just one accident with a stove or heating unit could send your home on wheels up in flames.
Your ski boat is left on a trailer at a storage lot and damaged by an unknown party.
Your garage catches fire and burns your motorcycle or ATV inside.
Home Insurance Offers Limited Coverage
Many people assume their toys are covered by their homeowners policy, but many policies expressly exclude motorized vehicles from coverage, with the exception of motorized tools such as snow blowers or lawnmowers. Any damages are typically handled under separate comprehensive insurance policies for each vehicle or boat.
It Might Be Non-Negotiable
Many people choose to finance their boats and motorized toys, since they are often expensive investments. Many lenders require owners to pay insurance all year round as a stipulation of the loan terms, since lenders are part of your investment. Also, marinas may require you to keep your boat insurance policy active to dock or trailer at their facility.
Paying All Year Can Be More Cost Effective
While it's possible to purchase a 12-month policy and cancel it, the math often doesn't work out significantly for the better. For one thing, generally many insurers offer customers a reduced deductible after a claim-free year. Additional loyalty polices are sometimes given for maintaining coverage and renewing annually. These discounts can add up year after year.
You miss out on the prospect of discounts when you cancel a policy, but you may also incur added fees. You may be charged a termination fee for cancelling early, reducing the pro-rated amount you may have received as a refund. While it's tempting to see the financial trade-offs as worth it, insurance premiums on summer toys are usually already adjusted for seasonal use by insurance companies.
Being Ready for an Unplanned Escape
Many people buy their toys for the freedom to get away from it all, at a moment's notice. You don't need to consider yourself a "prepper" to see your RV or motorcycle as a way to escape when life gets crazy—or simply when your regular car is in the shop.
It's also nice to be optimistic about where the weather is heading. Maybe this year you'll de-winterize your boat a month early. Or maybe it will be classic sports car weather into October for once. Keeping your policy intact year-round lets you go on an impromptu ride without breaking the law.
Who is Answer Financial?
Your motorized toys give you a feeling you probably can't get from your commuter car, but the right coverage is essential to keeping the experience joyful, in any season. At Answer Financial, we're happy to talk with you about the right insurance for your individual needs. Call 1-888-737-7000 to talk about auto, home, motorcycle, RV, boat or small business insurance with one of our insurance experts or visit our site to quickly compare quotes from over 30+ top-rated insurance companies.